Television & Film
Students Pitch Ideas to NBC Execs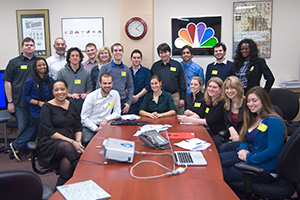 The 16 nervous students from Sarah Menke-Fish's Television Studio Production course were gathered in the boardroom of the Washington NBC affiliate to pitch their concepts for an original webisode to the station's top executives. The tension was palpable. Twelve ideas were trotted out; only the top three would get a shot at making it to the next level: a rough pilot. Then the station would weigh in again to determine which concept the class would develop into 16 episodes to appear on the station's website or on-air broadcast.
"I can't believe I get this opportunity," said junior Jen Meller. "This is why I transferred here." "Unbelievable," agreed junior Amada Yerbe.
Helping the students develop content for the station is just one facet of a wide-ranging partnership between AU's School of Communication and NBC. Training, internships, the use of school and student-generated content, and the invaluable feedback from professionals such as station General Manager Michael Jack and News VP Camille Edwards are all part of the new initiative.
"NBC shares our commitment to serious reporting, to training the next generation of journalists and to experimenting with new approaches to delivering information and to engaging and empowering our audiences," SOC Dean Larry Kirkman explained.
Jack and Edwards listened intently to each student's presentation, asking questions and praising good concepts. After one student stumbled over his words, Edwards tried to reassure the class. "I know this is stressful. I still find giving presentations stressful. Remember we are just regular people."
That was hard advice to follow.
After all the students had presented, Jack and Edwards went to another room to discuss the concepts and winnow the field. The students took a vote and agreed that a comical behind-the-scenes look at The 3:30 News, presented by Jen Meller and Shaina Jaffe, was their favorite.
Jack and Edwards had other ideas. Their favorite concept was offered by Fia Ramo "combining (the Fox series) Glee with the Food Network." "The Flavortones would sing reviews of local restaurants," Ramo explained and the catchy jingles would "go viral on YouTube." NBC's second and third picks were an interactive scavenger hunt offered by Matt Mariacher and Alex Diamond and a concept that put "stereotypical" Washingtonians in unlikely environments (for example, a former FBI agent at a speed-dating event) conceived by Natalie Sasser and Amanda Yerby.
The results in, Professor Sarah Menke-Fish told the students, "Take a deep breath, now the real work begins."
After a week developing the pilots, Flavortones was the clear winner.  It is now available on YouTube. The show will have an original musical review of a different restaurant each week.  The class will produce 15 webisodes this spring.