Journalism
TBD Launch Party Packs the House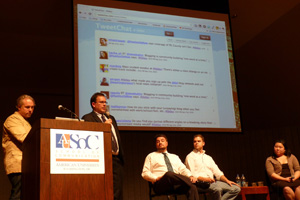 When Jim Brady returned to AU to celebrate a new partnership between his alma mater and TBD, the cutting-edge regional news operation he launched in August, his presentation ricocheted around the Web.
A packed house of students, bloggers and alumni with flying thumbs on all kinds of mobile devices, shared his presentation to Twitter followers. Brady's dramatic idea to pull in all local news sources to his news site and "link out vigorously," is backed by Allbrittion Communications which owns Politico. Media experts across the country have praised Brady's bold new model and are watching to see if he has found a way to make local online journalism financially viable.
"If you follow TBD.com you'll get the best news in the D.C. region," Brady said and within seconds his words were tweeted and retweeted. When he added that the site sees itself as an "arbiter" of quality local coverage, regardless of who created it, "Vaquity" tweeted "TBD sets itself apart with staff devoted to looking at best regional content; lead story may not be TBD.content."
When he explained TBD's goal is for users to find what they are looking for quickly rather than keep them on the site, katypit wrote, "Quick, positive answers to q's more important than time spent on site, according to Jim Brady."
And so it continued throughout his presentation.
After Brady's tour of the site on which weather and traffic conditions play prominently, four of the 170 local bloggers on TBD took the stage. While they explained why and how they had time to blog, a rolling feed of tweets played over their heads. Most had questions for the four, others had comments. 
brollman123 tweeted, "Great to see members of the TBD blog network telling their stories. Great project to be a part of - pioneers of the media world!"
ladansusan wrote, "How do you work for a paid job and give enough attention to your blog? I need advice!" So many questions were scrolling down the wall that Brady answered many of them the next day on TBD.com.
But not every Tweet dealt with the content of the discussion. wcochran wrote, "Not gonna tweet just to get my name on tweetwall. Oh, wait".
TBD.com and AUSOC are partnering to provide free training for journalists. The complete schedule is here.