Achievements
Young Alums Take Documentary to Cannes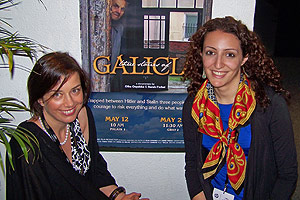 Olha Onyshko, SOC/MFA '09, and Sarah Farhat, SOC/MFA '09 have been working on  Three Stories of Galicia, a documentary screening at Cannes Film Market this month, since their first semester at American University. 
The two met in the School of Communication's MFA program when they were paired in a scriptwriting class taught by division director John Douglass to write a documentary treatment. "Olha started telling me about all those amazing stories she had found when she went around her home town in Ukraine, armed with a camera and a determination to tell the stories of that region," remembers Farhat. The rest of their story is below, in their own words.
We were both fascinated with those stories of tolerance, reconciliation and great courage in the face of oppression, and set out to make a feature length documentary about them.
We made use of every class at AU to work on the film.  We took a digital imaging class and designed a website for the film, we took a "radical image" class and created a video installation based on one of the stories, we took a producing class to create a budget, etc.  Everything we learned in the classroom we would apply to our film.
In the summer of 2008, we managed to raise enough money to be able to travel to Ukraine and Poland and complete the main filming.  It was very demanding because it involved different languages, many locations and several characters but at the same time, it was very rewarding.  We had a lot of fun incidents along the way, and some sad ones - like one of our main characters passing away and having to find a replacement. Throughout the trip we kept contact with our friends, colleagues, and supporters through a blog where we would upload stories and pictures. 
Post-production was a very tough phase. We had to go through around 300 hours of footage, translate a large part of it from Russian, Ukrainian and Polish, and cut the entire thing into a 90-minute documentary. We went through many versions of the film before settling on a final cut after almost two years of editing.
Throughout this process, the professors at AU were tremendously helpful.  We can't think of a single faculty member to whom we didn't go for advice or show a cut at one point or another.  One person in particular has our eternal gratitude: our primary advisor, Gary Griffin, who believed in the film and provided us with invaluable feedback throughout those four years.
When we graduated in August 2009, we presented an hour-long version of the film as our thesis.  After the screening, two amazing people came to our aid, SOC Dean Larry Kirkman and division director John Douglass.  Not only did they go through the film numerous times and give us helpful feedback, but they also put us in contact with many people in the industry who are helping take the film to the next level.
Following the screening, Douglass came to us and asked, "Now, how are you going to do color correction and sound mixing?"  We responded that we had no idea yet because we knew it would be very expensive.  To our surprise, he said, "I think we can help you!"
The help came in the form of two post-production enhancement awards, the Henninger Media Award and the Neel Family Foundation Award.  Both provide assistance with the final steps to prepare a film to be shown at festivals.
A few months later, we went with Douglass to meet with Rob Henninger, owner of Henninger Media, to see if they could match the award funds the school had provided.  After Henninger watched part of the film, he called his sound, color, and editorial teams in to discuss what could be done.  When he got the cost estimate, he looked at the figure, put the paper face down on the table, and said, "Let's just do it!"
We were thrilled - although we have no idea what the actual figure was, judging from the faces in the room, we know that Henniger was very generous.
This summer, we attended the Cannes Film Market where the film screened May 12 and May 20. It was a great opportunity to connect with distributors, sales agents, programmers of film festivals and other people in the industry.  Both screenings were booked and organized by the Ukrainian Cinema Foundation and the Ukrainian Pavilion. Sitting in first class cinema theaters with big screens and great sound systems, the film looks beautiful, thanks to the work of Henninger's amazing team.  We know that without their help, and the help of the SOC faculty, we would never have made it here.