Television & Film
SOC Students, Alums Sweep TIVA Peer Awards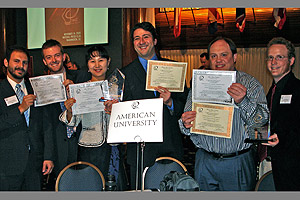 SOC film students and alums snagged gold, silver and bronze awards, in various categories, at the 2009 TIVA Peer Awards ceremony hosted at the National Press Club in DC. Some of the most sought-after awards within the DC community, the annual TIVA (Television, Internet and Video Association) Awards celebrate local excellence in media.

This year's streak built on a record of success; in 2008 SOC students won top awards, including Best Dramatic Student Production.

"Cookies" produced by students Ellen Tripler, Aditi Desai, Mary Ratliff, and Kai Fang, won the Peer Gold Award for Student Dramatic Production. MFA candidate Desai said that creating "Cookies" was an exceptional learning experience for her as a novice to narrative filmmaking. 

"Being new to this field, I am beyond honored that the film my teammates and I created received such a warm reception at the TIVA-DC Peer Awards and was appreciated by the DC filmmaking community."

Peer Gold Award winner and MFA candidate Mary Ratliff said the best part of the experience for her was learning the importance of proper preparation and organization. 

"Because we were shooting on the Bolex, we couldn't skimp on anything, or we would really pay the price when we went into editing," she said.

"Because we had [Kai's] great storyboards and our pre-production meetings, and because we kept camera logs and notes, we were able to make "Cookies" the great film that it is. " She also added, "Of course, it didn't hurt to have three talented partners and a lot of delicious cookies on set every day."

2009 winners included:

-Peer Gold Award, Student Dramatic Production- Ellen Tripler, Aditi Desai, Mary Ratliff, and Kai Fang for "Cookies" 
-Peer Gold Award, Student Non-Dramatic Production" - Ted Roach, Alex Morrison, Caroline Aguilar for "Chesapeake Gold" 
-Peer Silver Award, Student Non-dramatic Production - Carolina Aguilar, Brad Allgood, J.P. Eason, Dustin Harrison-Atlas, Danny Ledonne, Alex Morrison, Ted Roach and Suzanne Taylor for "EcoViews; Reclaiming the Bay" 
-Peer Bronze Award, Student Non-Dramatic Production - Lauren DeAngelis and Joe Bohannon for "A Place to Land" 

-Peer Silver Award, Dramatic Production - Jinwei Wang for "Flowers in the Mirror"
-Peer Gold Award, Non-Dramatic Editing (30 minutes and longer) - Ted Roach for "Somay Ku: A Uganda Tennis Story"
-Peer Bronze Award, Non-Dramatic Production (30 minutes or longer) – Ted Roach for "Somay Ku: A Uganda Tennis Story" (Producer, Editor)