Journalism
Lazo Lands New Washington Post Fellowship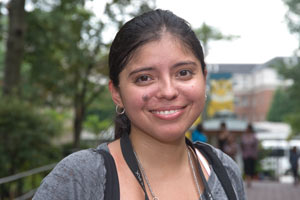 The first awardee of a named fellowship born of a new and exclusive partnership between the School of Communication at American University and the The Washington Post is veteran reporter Luz Lazo.  
This unique opportunity offers Lazo full tuition, plus a $30,000 yearly stipend and the chance to work side-by-side with top journalists at The Washington Post, one of the world's leading news organizations.  
This is the only such fellowship with The Washington Post in the Washington, D.C., metropolitan area. This opportunity is only available to those with several years of professional experience who become enrolled in the SOC weekday graduate journalism program, which is perfect for Lazo. 
For the last three and a half years, Lazo has covered local government and education for The Richmond Times-Dispatch in central Virginia. She previously worked at El Tiempo Latino, a Spanish weekly publication owned by the Washington Post Company. Her work has also been published in The Washington Post and Univision.com. A native of El Salvador, she grew up in Washington, D.C. and has a degree in journalism from American University.
During the academic year, Lazo will work 15-20 hours a week at The Washington Post while pursuing an advanced degree in an 11-month program. Fellows work full time at the Post over the summer.
"For me, coming back to school to learn new skills I can use in the rapidly changing industry is an opportunity of great value," she said.           
"This fellowship offers me the opportunity to come back home, to return to my alma mater and work at a newspaper that I respect and read every day." 
She can also take advantage of SOC's innovative centers for new forms of journalism such as, J-Lab, the Investigative Reporting Workshop, and the Center for Social Media, as well as the university's deep intellectual and educational resources.  
"This is an outstanding opportunity for a journalist who has a few years of experience and has already shown talent and grit to work for one of the world's premier news organizations," said Journalism Division Director Jill Olmsted. "It is perfect for someone like Luz, in an early-career building stage who also wants to earn an advanced degree, perhaps in a specialized area."  
Fellows are a part of the Post's local staff of 60 reporters, the region's dominant news-gathering organization, in print and online. Post reporters cover government, politics, crime, social issues, transportation, development and education; they write feature and trend stories; they investigate major local institutions, and they blog, shoot video, chat online and work intensively with databases.  
The Fellowship is limited to U.S. citizens or permanent residents with a minimum of two-to-five years full-time professional journalism experience who hold an undergraduate degree. Applicants may include general assignment reporters, editors, Web producers, and full-time freelancers. It is aimed at outstanding journalists committed to a career in professional journalism.