Communications
'Washingtonian' Taps American University's Eisman as Tech Titan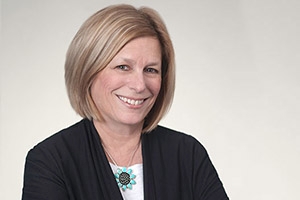 American University School of Communication (SOC) professor Amy Eisman has been named one of the top 100 leaders and influencers of the capital's digital arena by Washingtonian magazine, a nod to her track record as both a disruptor and innovator in the online world.
The director of the SOC Master of Arts in Media Entrepreneurship program (MAME), she has made her mark in the D.C. startup scene, staking out space for the school at innovation hub 1776 even before it opened, eventually leading to a series of American University faculty advising startups in media and content strategy. She co-created the DC Startup Forum with J-Lab and NPR affiliate WAMU 88.5, a series which has featured thought leaders and entrepreneurial stars of the metro area. And she coordinates networking events that bridge the gap between media professionals, academics and entrepreneurs. 
Eisman says the honor really reflects on SOC's school-wide embrace of trying curriculum change and piloting cutting-edge programs.
As a facilitator for JoLT, the 2015 Knight Foundation-funded program at SOC that brings together industry leaders with Professional and Student Fellows to work on incorporating game design principles into news and storytelling products, she's leveraged her media experience as well as her impressive personal network to shape the initiative in a way that targets media leadership that is primed for change. 
Eisman thanks Dean Jeffrey Rutenbeck for setting the tone, Associate Professor Lindsay Grace for the Game Lab and JoLT, and particularly Barbara Wall, vice president and senior associate general counsel at Gannett, for linking her to 1776 before even the walls were in place.
SOC Associate Professor Andrew Lih says, "She is the ultimate connector and project generator, by bringing multiple disciplines from DC's diverse startup community by drawing on her experience at USA Today, USA WEEKEND, AOL and as a Fulbright Lecturer."  
Eisman is former director of SOC's Master of Arts in Interactive Journalism. An early adopter of online education, she co-authored online training modules for Gannett about breaking news online, interactivity and database journalism and co-wrote a module for Knight Citizen News Network. She chairs the Online News Association's MJ Bear Fellowship committee, honoring digital journalists under 30, and has judged the White House Correspondents' Association Awards.