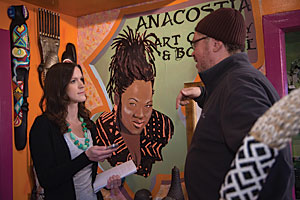 D.C. Intersections: Kate Musselwhite '11 interviews curator Barry Blackman at the Anacostia Art Gallery and Boutique.
Race, Ethnic and Community Reporting
Prof. Angie Chuang's class, Race, Ethnic and Community Reporting, is working with the Post's local editor, Vernon Loeb, and community producer, Andy Smith, to showcase student work on a Post Local blog that reports on undercovered D.C.-area communities from the ground up. The first student-reported and written blogs to go live explore everything from Central American culture in Mt. Pleasant to class divides in Petworth to housing in Anacostia.

In the class American University graduate students fanned out across the D.C. Metro Area, exploring the myriad ways in which community, race and identity are defined in this rapidly changing area. Initially funded by a Surdna Foundation grant, Race, Ethnic and Community Reporting is part of the American University's Community Voice Project.
See student work on the Washington Post site or stories and multimedia work by students from three previous semesters of this class are also available on the DC Intersections site.