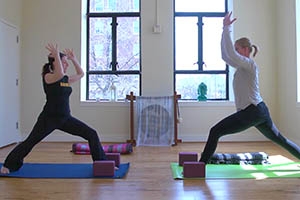 One of the 500,00 American veterans suffering from PTSD after serving several tours in Iraq and Afghanistan, Laura Pratt tells her story of slow but promising recovery through the practice of yoga and meditation.
Sometimes greatness is right before our eyes –in our parents and grandparents whose stories we've never really heard before…. In the latest offering of digital stories from the Community Voice Project, parents of children attending M.O.M.I.E's TLC, an after-school learning program for children in Greater Washington, create short autobiographical films about key moments in their lives, to pass down to their children. They are joined with four other community storytellers -- cancer survivors and caregivers, associated with the Smith Center for Healing and the Arts. Though seemingly different, all ten digital stories capture the finest aspects of our humanity even when those aspects are often memories filled with pain and suffering that arise from alienation and aloneness. 
Since 2008, teams of film and anthropology students in Nina Shapiro-Perl's courses "Community Documentary: Stories of Transformation," and "Documentary Storytelling for Social Change," and have produced 37 digital stories and 31 short films that tell nuanced narratives of people's lived experience in their communities in Greater Washington. Journalism students in Angie Chuang's course, "Race, Ethnic and Community Reporting," have produced more than 75 stories rooted in a dozen DC metro area communities reporting on demographic change, gentrification and more. Together these stories bring voice and visibility of underserved groups to the public while providing students and community members with transformative and practical experiences.