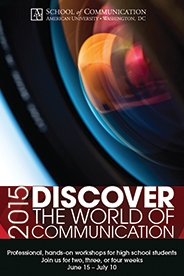 View the Discover the World of Communication 2015 brochure!
High School Program Lets Students Discover communication in DC
Welcome to Discover the World of Communication where you will learn to build a digital portfolio, script, shoot and edit a film, write a news story like a pro, speak with confidence, persuade, inform, educate and entertain. Our professional, hands-on workshops- open to students entering grades 9 through 12- are taught by American University School of Communication faculty and communication professionals.
During class and after hours explore the city from a variety of angles. View live television and radio broadcasts at local studios such as NBC 4, WTTG Fox 5, NPR and ESPN Radio, cover a Nationals baseball game or WNBA game from a press seat, and tour local attractions including the National Zoo, Newseum, National Cathedral, Georgetown and the Smithsonian museums. Upcoming sessions are June 15 - July 10, 2015.
I look forward to seeing you here at American University in 2014. If you have questions, call me at 202-885-2098.