JFK Remembered: May 1, 7pm

We invite you to join us for "JFK Remembered," a special AUSOC-Newseum program with legendary journalist Nick Clooney and NBC's Tom Brokaw.
This event will commemorate the anniversary of President Kennedy's seminal speech, "A Strategy of Peace," delivered at American University 50 years ago, and celebrate the opening of the Newseum's "JFK" exhibit.
Jointly hosted by AUSOC and the Newseum, the event will be held at the Newseum's Annenberg Theater (6th & Pennsylvania Ave, NW) Wednesday, May 1 at 7pm. Clooney and Brokaw will share their memories of the Kennedy presidency. The commemorative film "JFK: Building Peace for All Time" and archival footage from the Newseum's new JFK exhibits will be featured. The program will end at 8:30pm following audience Q&A.
Special discount tickets ($5.00) for AU guests may be purchased through the Newseum website using this code – 8152014. Light refreshments available for purchase in the Newseum lobby 6:00 – 6:45pm.
Past Events
The Art and Craft of Speech Writing Panel and Contest: Why the JFK Commencement Speech at AU Lives on 50 Years Later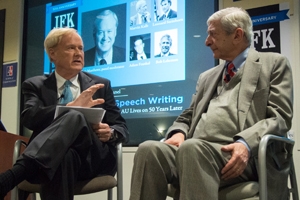 An American University panel-led discussion by MSNBC's Chris Matthews and the announcement of the winners of a student speech writing contest, both sponsored by the School of Communication, marked the start of a university-wide celebration of the 50th anniversary of John F. Kennedy's commencement speech at AU. Master of Ceremonies was Prof. Leonard Steinhorn, Professor of Public Communication and former political speechwriter.

Panelists:
Marvin Kalb - covered JFK's speech at American University as a former chief diplomatic correspondent for CBS News
Adam Frankel - former senior Obama White House speechwriter, and worked with Ted Sorensen on Sorensen's autobiography, "Counselor: A Life at the Edge of History."
SOC Prof. Robert Lehrman - SOC professor and former White House chief speechwriter for Vice President Al Gore
Winners of What Would a JFK Say Now? Speech-Writing Competition were announced at this event. Learn more