Alex Priest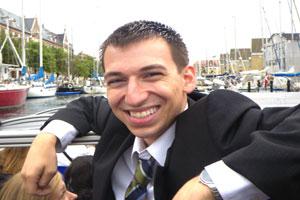 Message to the Class of 2011:
We all know how much we owe our parents. For support, life lessons and of course, for the money. Thanks to them for all they do.
Thanks to our friends, too, for making college more than just class, papers, and presentations. They gave us teamwork, contributed to hours wasted on Facebook, and well, they made it fun.
But let's not forget who really got us here. Our professors.
Who pushed us to work harder, write better, and speak louder.
Who gave us A's when we deserved them and well, other grades when we didn't.
And who gave us the feedback and knowledge we crave and need to continue to excel for the rest of our lives.
Thank you.
Our graduation is a big day. It's a day of congratulations. A day of completion, of finishing, of reaching the end of four long, challenging and exciting years.
But more than anything else, it's a day of transition.
We're moving from practice to the real thing.
From internships to careers.
And from learners to teachers.
Last fall I started the AU Social Media Club here on campus. From the outset, we decided we wanted to be a teaching organization.
We wanted to help students and teachers alike better understand these networks.
We wanted to show them that Facebook isn't just a distraction, but can be used as a resource for learning.
We wanted to show them that Twitter isn't just about what you had for breakfast, but it's also an essential tool for networking and becoming a modern communicator.
It's been an incredible journey. Since founding the club we've held panels, worked one-on-one with faculty—especially within SOC—and I've even been invited to guest lecture in a number of SOC classes. And to top it all off, we hosted a groundbreaking conference with over 300 attendees, right here at AU.
In short, I've become a teacher. And I can virtually guarantee that you, my classmates, will find yourselves in the teacher's role as well in the coming months and years.
If there's one thing I've learned playing this teaching role, it's that communications is harder than it looks, largely because the communications landscape is changing so quickly.
In film and media, it's a transition to digital video, 3D, and more.
In journalism, it's facing a challenging industry with dying newspapers and an overabundance of free information.
And in public communication, it's leveraging social media and more to give companies, organizations, and individuals a voice in a world where it's increasingly difficult to be heard.
We're extraordinarily lucky to enter our industry at this moment.
Thanks to SOC, we're emerging with an impressive foundation of skills and knowledge.
Thanks to our peers and our advisors, we've been encouraged to seek real-world experience, with internships, volunteering, and more.
And thanks to our generation as digital natives, we emerge with a better grasp on digital communications than any graduating class has before us.
Don't underestimate your skills as a modern communicator. And don't discount your ability to make change and transition to a better world.
As graduates of the School of Communications, we prepare to enter the world and do what we do best: communicate. And communications is at the heart of every meaningful transition this world has ever seen.
Even during our short time here at AU, we've seen communication change the world:
In 2008, communication brought transition to United States politics. A constant message of hope and change, communicated well, brought Barack Obama to the White House.
In the past several months, we've seen communication bring transition to the Middle East. Digital tools, multimedia and remarkable reporting have helped bring about revolutionary change in Egypt, Tunisia, and Libya.
And on graduation day, we use communication with each other to celebrate our transition to the next stage of our lives. To careers, to our futures, and hopefully, to a better world.
Class of 2011, our transition to working professionals is almost complete, but the change and transition that awaits in the "real world" is a never-ending process.
When you leave here today, be proud to be a communicator. You leave here as a professional and as a teacher. You leave here ready to face a world full of transitions. And you leave here ready to make a difference with your voice and your abilities.
Walter Cronkite—a communications icon if there ever was one—once said, "I can't imagine a person becoming a success who doesn't give this game of life everything he's got."
Take all you've learned from SOC, from internships, and from your life in an increasingly digital and connected world, and communicate your way to success.
Share your passion with those around you, and teach others to do the same. Give all you can back the world we live in, and seize the opportunities that the world provides. Give it everything you've got and success surely awaits you beyond the gates of American University.
Congratulations and good luck.