Shanika Yapa
BA IN PUBLIC COMMUNICATION WITH A MINOR IN LITURATURE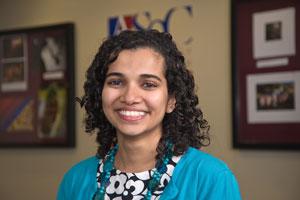 Shanika Yapa is the undergraduate speaker for the 2011 American University School of Communication commencement ceremony.
Grosse Pointe, Michigan; Toms River, New Jersey; Frankfurt, Germany; San Pedro Sula, Honduras; Beijing, China; Jeddah, Saudi Arabia; Kabul, Afghanistan – these cities represent the homes of only a few of the people at American University who have shared their story with me and who have helped shape my story during my time at AU. They represent a mere fraction of the stories that are a part of the AU community.
Perhaps one of the most compelling stories I've heard during my career at AU is one shared by author Chimamanda Adichie who talks about the power of a single story and the evils it can lead to – misrepresentation, stereotyping, and stigma and the importance of remembering that there are many versions and not just one.
When I came to AU four years ago, scared and nervous about traveling half way across the world for college, I brought my personal story and you brought yours from all across America and all over the world, and since then, we've made many new stories together. We've all learned how to see the world not from just our own perspective but through that of all the people we've encountered.
I've learned, I'm sure we've all learned to never make the mistake of seeing only a single story.
Every student I've encountered in the past four years has helped me realize just how alike we are as individuals and understand how our similarities outweigh any perceivable differences in spite of geographical and cultural divides.
At my very first internship with a labor rights organization, I learned the stories of women working in flower farms in South America to ensure that the thriving cut-flower industry in North America survives; all while their basic rights were denied.
While working on my honors capstone project, I talked to AU students about their opinions on poverty appeals and thoughts on moral obligations towards philanthropy, to better understand how to create effective poverty appeals.
When I studied abroad in Spain, I met an amazing group of people, got to know Spanish culture and learned a very important lesson from our program director - of how life is only as beautiful as the memories you make during it.
And I'm sure we've all made our own stories during our time here – whether it's of standing in the cold for hours to witness a historic inauguration, or of protesting day after day to support the causes we fight for, or of learning the cultural capital and values of playing a game of Apples to Apples late into the night with friends and floor mates.
And all this has taught us to never see the world through a single point of view and to respect each other, understand our differences and come together to create a better world.
As students of the School of Communication, we're taught how to voice these stories.
We learn how to seek a story as a journalist, to frame it appropriately as a public relations professional, to find the right angle as a photographer, to know what to cut to make a compelling movie – we're taught how to share these different points of view in the most effective way.
In the globalized world we live in today, with peaceful revolutions being motivated through Facebook, and history being shared as it happens through Twitter – we were taught to share the stories that need to be heard – and equipped with the skills to share them so that they are heard and not drowned in the multitude of stories floating around on the internet.
AU is home to approximately 13,000 students of almost every race, religion, gender, sexual orientation and ethnicity conceivable. And when I look at AU, I see what I hope we can achieve in the world – a place where everyone can co-exist – living and learning, and respecting each other and everyone's thoughts and opinions.
Soon all the speeches will be done, the diplomas presented, the photographs taken and we will be on our way – into the world to share everything that we've learned so far.
Congratulations Class of 2011 and Good luck finding many more stories!