Sylvia Brookoff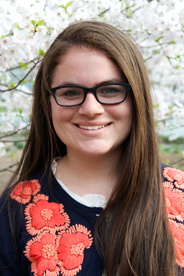 Originally from Memphis, Tennessee, Sylvia Brookoff has taken advantage of everything DC has to offer. A film and media arts major with a marketing minor, Sylvia first learned about the power of storytelling as an intern in the Washington Post video department her sophomore year. There, she edited reporter's videos, helped live-stream Jon Stewart and Stephen Colbert's Rally to Restore Sanity and edited videos late into the night during the midterm election. In an effort to diversify her experiences and learn as much as possible about the various components of media, she's interned at a range of companies including Comcast Sportsnet, the Travel Channel, Sunday Night Football, NBC Nightly News and the 2012 Olympics in London.
Sylvia developed a particular interest in Children's media after visiting Nickelodeon during the SOC New York trip her sophomore year and her interest continued to grow after taking Kathryn Montgomery's Children, Media and Society class and interning at PBS KIDS and the KIDS department of National Geographic. In addition to interning, in her spare time, Sylvia enjoys seeing plays at the Shakespeare Theatre Company, playing tennis, eating a lot of Nutella crepes and collecting brightly colored sneakers.
Message to the Class of 2013
It was 4 in the morning and I was in the backseat with two other AU students. Dean Rutenbeck was driving us to the ABC bureau to work as production runners for the 57th Presidential inauguration. It was in that moment, that I caught myself thinking this was a totally normal situation – just another day in the life of an American University student. Because, although the lack of a football team may leave some of us feeling like we have nothing to rally around or unite us as a campus community, we do. It's the amazing opportunities we all share, while we're students here. It's graduating and becoming part of a network of alumni that are doing big things for communications and media, like the director of Scripted productions at AMC working on such shows as Breaking Bad and Walking Dead (shout out to my School of Communication mentor, Jason Gold), Danielle Gelber, the Executive Producer at Wolfe Films, formerly a Development Exec at Showtime (where her last buy was Homeland) numerous people at Nat Geo, Washington Post, PBS, Discovery, reporters at Fox, CNN, ABC, NBC, Al Jezeera, Darryl Frank, Co-president of Dreamworks Television, the CEO of MWW, the director of Rain Man, and the Chief Marketing officer of Nickelodeon, Pam Kauffman, just to give a sample.
AU has provided us with unparalleled professors, courses and experiences. Last summer, I walked into a TV truck in London. There, the director and producer were live broadcasting the women's 4X100 for NBC's Olympic coverage. I looked around at the extensive equipment filling the truck, the switcher, the various monitors, but I wasn't overwhelmed. I had seen that very equipment in Sarah Menke-Fish's television studio class a few months before and I knew how it all worked. In fact I had directed and tech directed my own show that appeared on NBC – NBC Washington, but NBC nonetheless. Everyone in class had – we created a 17 episode mini-series of an original show that was on their nonstop channel and website.
Professors with incredible experience aren't a rarity at AU. I've taken a writing class with a former Nat Geo Producer who talked about being charged by a pack of elephants when she was in Africa filming a show. I've taken an audio class with a professor who used to work for Lucas films and did the audio for Star Wars, Indiana Jones and most recently Lincoln. I took a class with Julian Bond where we watched his PBS documentaries and had a class discussion after each segment. I just finished a class with a professor who executive produces most of the IMAX films.
AU has also allowed me to do many things I would never even be able to think up. Sophomore year, Rachel Jacobs, another film major, and I were filming Elton John's charity tennis tournament, which was conveniently held at the AU Gym, for the student-run university television station. Players included Billie Jean King, Anna Kournikova, Andre Agassi, Steffi Graf, Martina Navratilova and others. We got some great footage and I was talking about the event the next day at my internship in The Washington Post Video Department. They hadn't covered the event and ended up using the video Rachel had shot, which I edited and voiced, on their website. It was a true classroom to real world experience. And coincidentally, Rachel went on to take part in one of the School of Communication's partnerships and work as a Dean's intern in the Post video department, helping them on their new live news show. I've helped out with a classmate's final film for Production 2 called Boyritto where a guy eats so many burritos he turns into one. I've had the opportunity to make an interstitial for a student Emmy-award-winning documentary about a fish called Menhaden. It was collaboration at its finest – Sandy Cannon Brown's Environmental Doc class with my Motion Graphics One class- I worked week after week with one of the filmmakers to adjust it to their liking. The final design was finished right in time for it to be turned into Maryland PBS to go on air.
One experience I've had during my time here was so strange, I wasn't even sure if it would be appropriate to mention in this speech. It definitely was not school sanctioned, but I found it through the film list serve – an email group where an SOC professor moderates postings about local media jobs and volunteer opportunities for students and recent alums. There was an interesting email looking for someone to video a contest called Cirque de Polei. Long story short, I found myself in a Hawaiian themed bar at midnight the next day holding my own personal little handicam and filming "fitness" pole dancers from age 18 to 62 doing various acts in various costumes to everything from country songs such as Honky Tonk Badonkadonk to Nickleback. Just another day? It did teach me a thing or two about trying to film in low light, working on my own with limited resources and having to get up-close-and-personal with a subject matter I didn't feel totally comfortable with. I have a friend who through the film list serve is now involved in a project to install cameras underwater in coral reefs so the footage can be distributed to conservation groups. The opportunities are endless, some a little more impactful than others.
My last semester, I took the senior professional internship class with Professor Scott Talan. The first day we went around the room and people talked about where they were interning. Discovery Communications, Living Social, the BBC, USA Today, the Baltimore Sun, Fox Business, Voice of America everyone was doing very different things – from reporting, to marketing to social media to product analytics – I was amazed and inspired by my classmates as I was throughout my 4 years at AU.
Now, a new SOC building is slated to be finished next year... The year after we graduate. There was a new playground built the year after I left elementary school. And a year after I left middle school, they got a new principal that instituted an annual roller skating day, numerous pizza party days and other activities I missed out on. Although high tech collaborative workspaces, a brand new theater and about 39,000 additional square feet are a little bit more exciting than a new jungle gym or swing set – I understand the feeling of "missing out on something you really wish you could experience." But although we are physically leaving SOC, we will never leave everything we've gained from being here. Before we know it, people in this audience will be references as outstanding alumni in their field who are doing big things. The "success stories" on the AU website will be about us. Although our class is "graduating," we're like the freshman of "real life." We're taking everything we've learned and experienced from our teachers and each other, and with the enormous support we've had from this university, with great knowledge and confidence, we're going to make big things happen.
-Sylvia Brookoff