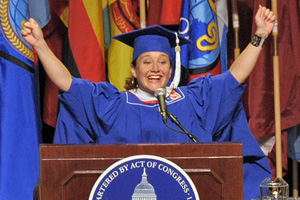 Katharine Jarmul delivers the May 11, 2008 SOC Commencement address (download audio). Ken Paulson, editor and Vice President/News of USA Today and USATODAY.com and SOC Dean Larry Kirkman also spoke at the ceremony. 
We made it!
Hello parents, supporters, peers and siblings. Welcome to our amazing celebration to recognize our achievements and the love and support everyone here showed us along the way.
When I sat down to write this address, I wanted to highlight the biggest lesson American University's School of Communication taught me. After pondering for numerous hours, seeking to identify what we all had in common, it came to me, so indulge me along my journey.
We all came here to learn some form of communication. Whether it was journalism, like myself, or film and media arts or public communication, we wanted to craft stories, and messages and share them with the world.
We became masters of the English language. We learned exactly when we should use who and whom and that, according to our AP stylebook, they're Canada geese, not Canadian. We thought about articulation, lighting and audience. We became communicators of ideas and passions much larger than our own life and experience.
In this process however, the most important thing we learned was to be listeners, not speakers. The power of our words came from our ears, not our lips. We became conduits for the stories of those around us—stories we thought needed to be shared.
So, as we venture into the world beyond this spectacular campus, our ears must remain open. To whom shall we attune our attention?
First and foremost, I've discovered, as I age, that you must listen to your elders. Contrary to all opinion and common sense of youth culture, older people are often correct and you'll end up kicking yourself in the rear if you don't heed their advice. Where would we be without our esteemed Professor Benedetto's constant reminders to stay critical and not get involved in candidate-flattery. Lord knows we would have written some Obama-fanatic story that would come back to bite us when he becomes president and does something requiring sharp criticism. Professor Watson has grilled us on ethics for so long we will never need to worry about how to report a car crash between a nun and a drug dealer. Our mentors, both on the faculty and those we met through other opportunities, carried us through so many trials and tribulations. Without Professor Lynne Perri, I would not be standing here before you—thank you for your continual guidance and support! And although your elders are usually right, you still must press and challenge long-standing concepts and ideas. Even they will tell you that's your job as a young person!
The second thing you need to listen to is the world around you. As a reporter, filmmaker or communicator, your job is to convey the stories of others. I don't know how many times a story has hit me while I walked down the street or rode the Metro. Be aware of those around you. Stay grounded and connected with people from all different backgrounds and experiences. Don't follow the pack, look for the story that's right in front of you and yet somehow escapes the ordinary. Keep your mind, eyes and ears open; we live in an amazing age with more stories than storytellers, so find them!
The third group you need to listen to is your peers and colleagues. I have learned so much from the incredibly intelligent students I've met on this campus, and I hope they've learned at least one or two things from me. If you take a moment and look around, I'm sure you'll recognize the faces of many who have helped you along the way. It doesn't end here. I will see you at a press conference at the Capitol, I will see you at a meeting of magazine writers, and I will see you at a hearing in New York. As we become professionals within our chosen craft, we will bump into each other again and again. Although you may scoop me on a story or get a better interview, it's important to remember that we are friends first and competitors second. Don't hurt people on your way to the top, it's a lot easier if we all realize that there's enough for all of us to succeed. The competition for the story lasts for one week, but a friendship can last a lifetime. I hope to see you all here in ten years at our reunion, where we can share experiences—not for the sake of recognition or fame—but to laugh, revel in each other's successes and share feedback and new ideas.
The last and most important person you need to listen to is the one seated in your chair right now. As we engage in our careers, we must not forget the passion and ferocity that we now possess. We must grow and learn and become better, but not forget where we've been and how much we've gone through. As communicators, we must speak from our place, our experience and our knowledge. Tell what we know, but be open and perceptive about communicating what we don't. Professor Chuang taught us to listen to our intuition when it tells us what's really happening in a story. This lesson also teaches us how to live our lives. As we grow, we must stay rooted in our true selves. We must learn to listen to our own souls and minds even as our lives get hectic. We cannot be storytellers for the world if we cannot even map our own path to the present.
So, now that you've all listened to me talk about listening to you, let's celebrate! We've come so far and we have so much of which we can be proud. Give love and thanks to all who saw you through both the grueling moments and the elating victories. Smile—we are a success! Don't ever doubt yourself, you made it through a top-of-the-nation education program, now you can take on the world!
  Thank you.