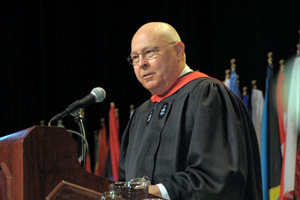 SOC Dean Larry Kirkman addresses graduating SOC students at the 2008 commencement ceremony.  Ken Paulson, editor and Vice President/News of USA Today and USATODAY.com and Master's degree candidate Katharine Jarmul were also speakers.
Dean Kirkman's 2008 Commencement Remarks
Class of 2008, School of International Service and School of Communication, on behalf of the faculty and staff of SOC, congratulations on your achievements. SOC graduates, today you join a community of thousands of alumni working across our professions and around the world.
Hundreds of our alumni are substantively engaged in the academic life of the school. One of those alumni leaders is our flag bearer today, Joy Thomas Moore. Joy has a BA and MA from SOC. She serves on our Advisory Council. She has been a mentor every year since we launched our alumni-student mentoring program in 2002. And, she has been a great supporter of our Center for Social Media. Joy Moore has been a ground-breaking innovator in using media for community building and social documentaries for public knowledge and action. Read her profile on our website.
We say we're on a mission to inspire and train the next generation of communication professionals, but the truth is you are inspiring us. The digital generation is challenging the faculty to rethink and reinvent communication as a profession and as a social responsibility.
We see SOC as a community of professional practice, a meeting ground for storytellers, strategists and reporters, working across media platforms and at the intersections of film, public communication and journalism, exploring new tools, new channels and new audiences.
But, this vision of SOC as a communication laboratory only makes sense if it is informed by your real-world experience and propelled by your commitment to our shared values.
Historical context and global perspectives, demanding professional standards, the high value placed on independent critical thinking and the lessons of team-work -- these have provided the grounding for your careers and for your life-long learning.
I don't have to remind you that there's no easy map for your careers; the business, ethical and creative challenges in communication are more formidable, more structural, than ever – as consumers are overwhelmed with ever-expanding menus of program options, when the tools of production are everywhere, when everyone can have a channel and as the traditional lines between writer and reader and between professional and amateur are increasingly blurred.
But, if we stick together, we can anticipate and help shape the new professional roles that are emerging. We can demonstrate digital content that is engaging and empowering. We can imagine a public culture that is vigorous and inclusive.
It is in the context of our community that we can reflect on what matters and why, can keep ourselves honest, can size up the challenges we face.
Now more than ever the professions of communication have a calling -- to provide the evidence and testimony that frame public debate, to speak up and speak back to the powers that be, whether defending human rights abroad and civil liberties at home, exposing the gap between economic haves and have-nots, explaining the science of global warming or denying a call to war.
Your commencement speaker, Katharine Jarmul, as a master's student in Journalism and Public Affairs, has demonstrated the principles we try to put into practice, that give definition to our community: moral and intellectual inquiry; the joining together of reflection and action – operating as both a media producer and a cultural critic; the exchange of ideas and insights across borders -- of geography, of race and ethnicity, of age, of academic disciplines.
While at American, she has tapped the opportunities in Washington media, in both independent and mainstream outlets – reporting for Free Speech Radio News, broadcast nationally on the Pacifica network, and researching and writing for National Geographic's website.
And, this summer she has an internship at USA TODAY.com, redoing its interactive report on Iraq war casualties, and she has a part-time job at Washingtonpost.com's Politics and News desk.
She has cultivated the habits of heart and cast of mind to take on the toughest questions about truth and transparency, credibility and conscience.
Join me in welcoming and honoring Katharine Jarmul.