The Media Production Center provides students and faculty with state-of-the-art video and audio production facilities, tools, and support. It is located on campus at the base of the giant broadcast tower, next to the Beeghly Building. MPC houses a three-camera television studio, the Ed Bliss Broadcast Newsroom, the Production Equipment Room, Final Cut Pro and Avid video editing suites, and radio production suites. The MPC is open 24/7.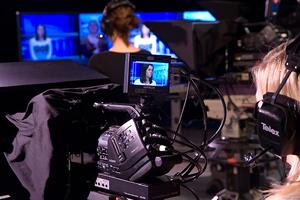 Fully HD 
The Media Production Center is now a fully-digital HD production facility. Our studio features three SONY HD cameras and a SONY MVS-6000 HD video switcher, making it the most advanced university-based video production facility in the national capital region.

Media Production Center Overview:
Thirteen private, digital video editing suites with Mac Pro computer systems, including Final Cut Pro and Avid Media Composer

Three digital radio production suites
Two multi-format AV-enabled classrooms
A computer-based newsroom featuring Associated Press' ENPS
A 40 x 40 sq. ft. three-camera television studio
A fully provisioned media production equipment checkout room (ER)  

 

MEDIA PRODUCTION CENTER - TECHNOLOGY STAFF SUPPORT HOURS


Summer Hours
Monday - Fridays 9:20am - 5pm; Saturday 10am - 2:30pm.

(Full time supervisor available Monday- Friday during business hours.)


To reserve time in the media editing suites, please book your time with the MPC staff at the front desk or call them at ext. 8338. Reservations can be made in 4-hour increments. 




ED BLISS BROADCAST NEWSROOM

The Edward Bliss Broadcast Newsroom is the nerve center for radio and television production in broadcast journalism. This broadcast news lab is configured with AP's newest Electronic News Production Service, a cutting edge newswire application, and 19 networked Windows computers. Students build rundowns and scripts for both radio and television programs.The Bliss Newsroom has everything for researching facts, producing digital media, or writing news articles and stories. Networked printing is available.

FINAL CUT PRO EDITING SUITES

Broadcast journalism students learn to edit video packages using MPC's thirteen state-of-the-art Final Cut Pro Studio editing suites. Each room is equipped with a Mac Pro computer, Sony HDV VTR, NTSC video monitor, audio speakers, and a variety of digital media production applications including Adobe's Design Premium Creative Suite.

RADIO EDITING SUITES

There are three professional digital audio editing suites that students and faculty of the broadcast journalism program use to produce standard radio packages, actualities, and news stories. Each suite is equipped with a Mac Pro audio workstation, running Adobe Audition as well as Audacity, along with professional-quality microphones, both analog and digital playback machines, and a profesional radio mixing board.