Communications
Class Gains Professional Experience While Doing Good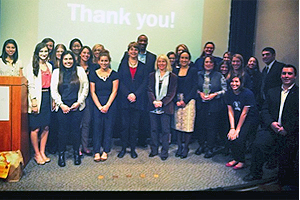 Professor Gemma Puglisi's PR Portfolio class is more than just a course, it's an opportunity for students to spend the semester gaining real world experience by working with actual clients. Just as important as the professional experience and portfolio development was the opportunity for them to be a part of and create a lasting legacy for organizations and individuals who are making incredible contributions to the local community.
Food for Others is a nonprofit food bank working to help the hungry in Northern Virginia. In 2011 the group distributed 2.7 million pounds of free food.
Girls, Inc. of the Washington DC Metropolitan Area is part of a nationwide non-profit youth organization that inspires all girls to be strong, smart and bold. It provides National Identity Programs addressing topics like leadership and careers in Science, Technology, Engineering and Mathematics. On November 27, 2012, Girls Inc. WDCMA held their first annual fundraiser featuring Rain Pryor, daughter of the late comedian Richard Pryor, and her off-Broadway solo show "Fried Chicken and Latkes."
Brian Bullock, owner of Bundy Films, specializes in telling unique and interesting stories that blend cultural and ethnic lines. His current project, a documentary film entitled The Richmond 34, scheduled to come out in February 2014, focuses on a forgotten 1960 civil rights sit-in by 34 Virginia Union University students at Thalhimer's department store. The event was instrumental in the desegregation of Richmond, Virginia.
Generation Wags is dedicated to providing articles and resources to educate the public about the issues contributing to the dire situation of rescue companion animals, and to empowering individuals to engage in creating solutions.
Throughout the semester the teams worked with their organizations to develop marketing materials, plan events, create press kits, obtain media coverage and more. On December 4, the students presented all their hard work to the clients and other SOC community members in a final presentation on American University's main campus.
Those working for Food for Others spent 24 hours at a local Safeway store where they collected 1,704 cans. They also created a food drive kit to allow others to hold their own food drives.
The Girls, Inc. WDCMA students were able to get interviews for Rain Pryor with Tom Joyner's Black American Web, JC Heyward at WUSA Channel 9, and Kojo Nnamdi on WAMU 88.5. The fundraiser itself sold out and raised over $40,000.
Students working with Mr. Bullock on The Richmond 34 were able to get him an interview with RVA News about the film. Thanks to that article, the family of the owner of Thalhimer's department store, who had previously declined to be a part of the film, had a change of heart.
The Generation Wags team spent the Saturday before Hurricane Sandy at the Howl-O-Ween Fun Walk/Run and Rescue Fair in Gaithersburg, Maryland, where they got people to sign the Generation Wags Pledge of Awareness. In the end the students were able to get their clients 13,036,351 media impressions.
After the final presentation, the clients had nothing but praise for the students they worked with. All of them remarked on the high level of dedication, creativity, and professionalism displayed by the students that they worked with. One client said, "Not one time during this semester did I feel like this was a class, I thought you [the students] were professionals." While another remarked, "Our greatest concern was that we were not known in the community. Now we have such a buzz...that means more than any money."