Internships
Grad Student Takes Skills to India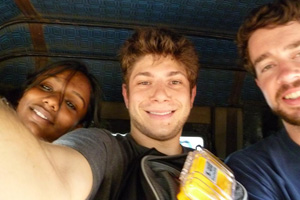 Eric Saltzman, SOC/MA '10, is in Chennai, India this summer for 12 weeks, mainly in rural areas doing ethnographic work and market research to improve marketing and communication strategies to the lowest income groups in rural India in the areas of energy, water, and sanitation. 
"I'm interning at the Centre for Development Finance (CDF), a non-profit action research think tank, which focuses on improving government systems' and markets' capacity to channel finance into sustainable, holistic development," said Saltzman. "I'm in villages conducting interviews and focus groups to better understand the mindset of this most underprivileged, and often ignored group." 
Saltzman said he then analyzes the data to provide recommendations to international development organizations and other NGO groups who wish to improve the livelihoods and health of rural Indians in these and other areas of health technology. 
The position is a direct result of interviews Saltzman conducted for his graduate thesis with key individuals at CDF. 
"My thesis was a case study of the history and market of clean cook stoves in rural India, a development of best practices, an argument for a greater of in-depth ethnographic research to determine the real needs and drivers of the poorest population, and a social marketing campaign plan to implement cultural and behavioral change to encourage adoption of clean cook stoves (and abandonment of traditional, harmful and highly-polluting stoves)." 
The biggest challenges Saltzman faces in India are cultural barriers. 
"India is truly a myriad of cultural, religious, linguistic, geographic experience. To discuss communicating to 'rural India' is paradoxical, and I could not have fully realized this until arriving here," he said. "Most evidently, the South is simply an entirely different nation than the North; different cuisine, language, climate, and on and on." 
Saltzman will continue to work in Chennai through the summer and into the fall, co-authoring a paper with professor Maria Ivancin on improving the way CDF researches, understands and gets in touch with the world's poorest markets. 
Saltzman says this has been a once-in-a-lifetime experience. "If you're looking for somewhere to travel on a budget, with a rich culture, with friendly people in a place that you will surely be uncomfortable but in the best way possible, then come to India."