Achievements
How I Learned to Stop Worrying and Love the Code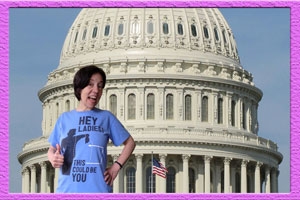 Peggy Aulino is a journalist, attorney and former tour guide. Her experiences range from defending indigent people in criminal trials in Detroit to sharing tips on where to find clean public restrooms in D.C. As a reporter with decades of experience in print journalism, she is sorry for all the trees that sacrificed their lives for her career. She wants to make up for it by learning new skills that will equip her to master the paperless possibilities of the World Wide Web. Peggy is a legal editor at Bloomberg BNA, with expertise in white collar crime and corporate compliance and ethics. She holds a BA in Communications from William Paterson University, an MS in Journalism from Ohio University and a JD from Wayne State University Law School.
SOC sat down to talk with Aulino about her experiences in the Digital Media Certificate program.
What has been your experience thus far in Web Development and Dynamic Content?
I went from knowing nothing about coding to creating a website in a couple months. Not bad for someone whose only languages before HTML were English and Pig Latin. It's quite challenging at first, but the results are extremely rewarding. On top of having a good understanding of how coding works, I realized at some point that I understand how the internet works a lot better now, too.
What has been the most challenging aspect of "learning code"?
The hardest part for me was not being able to manipulate things right on the screen, the way you could in Quark Xpress, for instance. That extra step of having to think through how you want something to appear on a website really forces you to digest the tools so you have a command of them.
How do you overcome those challenges?
Pulled out a little hair; asked a lot of questions; made time to just experiment.
Have you gained an appreciate for code? Or if you can list one thing that you love about it, what would it be?
I have certainly gained respect for coding. Its uses are broad, and there's a lot of power in having these skills. There's an old piece of advice they use to give people who were tempted to blame a newspaper for something or other: "Don't pick a fight with someone who buys ink by the barrel." These skills we're learning are like getting a lifetime supply of ink. That is awe inspiring and reminds me of another quote: "With great power comes great responsibility." (According to the internet, that phrase comes from the Bible, Voltaire, or a character from "Spider-Man.")