Alumni
Mentoring Program Win-Win for Students, Alumni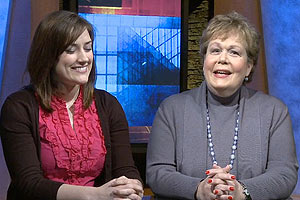 The School of Communication's Alumni Mentoring Program is a unique opportunity for students to bridge the gap between the classroom and the professional world as they prepare for careers in communication.
Each year SOC students, who are admitted to the program through a highly selective process, are paired with top alumni for  career advice, short- and long-term career planning, tips to improve resumes and portfolios or help networking their way into the industry. Watch video

Insider's Experience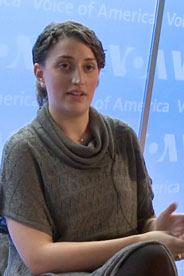 Graduate student Rosemary D'Amour, SOC/MA '12, who was paired with Bill Torrey, SOC/MA '78, Operations Director for the office of marketing and program placement at the Broadcasting Board of Governors, the parent company of Voice of America, says it is an invaluable experience to be able to talk to someone in the industry who can tell you what people are looking for when hiring. Advice on how not just to market yourself but about what you need to know to enter the industry ahead of the game is key, she adds.
Philippa Levenberg, SOC/MA '10, who was mentored by Torrey last year, says the program got her out into the real world. She's currently working as associate producer in the Afghanistan television service at VOA.
"In my case, Bill [Torrey] did a great job at steering me in the right direction," she said. "We still have a great working relationship today. He helped me secure my internship here at VOA, which led to employment. It was certainly a highlight of my graduate experience."
MFA student Erin Finicane, SOC/MFA '13, says learning from someone who's in the know, with years of experience under his or her belt is crucial. Finicane was paired with Michael Cascio, SOC/MA '73, Senior Vice President of production at National Geographic Channel.
"I'm getting the behind-the-scenes insight into the professional life of someone in the industry and [I'm on] a genuine search for knowledge," said Finicane. "I can just be myself and ask the questions I want to ask."
Program Benefits
Megan Smith, SOC/MA '11, a Public Communication graduate student mentored by Jackie Judd, SOC/BA '73, Vice President and Executive Director of multimedia at the Kaiser Family Foundation, says that being new to D.C., she's still developing contacts.
"When I go into a networking situation, I get intimidated, but having someone who is an alum and has been in the business a while, it's a little less intimating." Smith says it's a casual conversation and a give and take. "I really appreciate having that [relationship] with someone here in D.C."
Judd has given Smith feedback on cover letters as well as insight into how the business has changed and what employers are looking for when they're hiring.
D'Amour says that the program really speaks to the strong community network that American, and particularly SOC, has developed, evidenced by the many successful alumni who are willing to devote their time to students who are struggling to further their careers.
"You get so much experience in a real-world setting, which I think SOC focuses on very strongly, and when you can pair that with somebody who's in the business I think you're really put ahead of the game."
What the Mentors Get Out of the Program
Torrey says he gets a great deal out of the program as a mentor.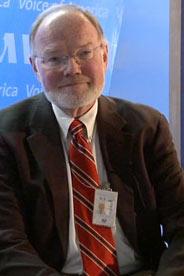 "At AU, because they have this fine program, it makes it very easy to stay connected to the University," he said. "I would urge any alumnus to fully take advantage of any program like this because it puts you in touch with nice young people who are learning the state of the art. That keeps you fully informed of what's going on and you learn all their particular frustrations and desires and you're able to help them and build their future network."
Cascio says it helps him stay connected, and that he participates because he was helped in the business himself.
"It's doing what others did for me when I was a graduate student at AU," he said. "It's important to be connected to students because they're the future. I get a lot out of it. I enjoy the creativeness of the students and it keeps me on my toes with the questions they ask. It's energizing."
Judd, who is in her fifth year with the program, says she gets as much if not more out of the relationship as the mentees do. "It's a great opportunity for us in the profession for a long time to stay in touch with young people just coming up, not only in terms of what they're learning, but also what the latest thing is and what the latest strategies are. I learn as much from the students as they learn from me," said Judd.
She stressed that there are very few opportunities in people's lives where they meet someone and the only agenda is having them do well and succeed.
"This is a program that allows for that kind of relationship. My only goal is to see the student get where they want to go. And there just aren't a lot of opportunities like that as you go along."