Dean's Internship Earns Dazio Bylines and New Expertise
By Stefanie Dazio
April 5, 2012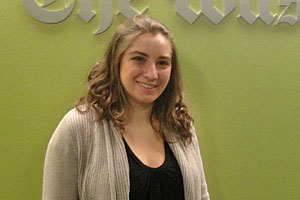 Below is a first person account from Dean's Intern Stefanie Dazio on her internship at The Washington Post.
It's Friday deadline in The Washington Post newsroom. Crunch time. 
Phones are ringing, keyboards are clacking, time is passing. Quickly.
Stories for the Saturday, Sunday and Monday issues are shuttling back and forth, reporter to editor, editor to reporter, reporter to editor, touchdown at the copy desk.
I just filed my 40 incher for its first edit, still waiting on some phone calls.
In a week, I've learned about the federal budget, the D.C. economy and national unemployment – all for this one story.
Where will the next one take me? Madame Tussauds? Capitol Hill? A gas station?
As a dean's intern for the Metro section, I get to see – and be a part of – the inner workings of the District's best paper.
I'm surrounded by people whose bylines I've been reading since freshman year in college, whose work has inspired me for as long as I can remember.
Needless to say, I'm star-struck pretty often.

But working here has allowed me to make my own way, and
develop my own writing skills to the point where the "real" reporters now recognize my byline.
The editors here have guided me along, but at the same time, let me make my own decisions about my stories. Want to write a story partly as a poem? Sure, try it!
The other reporters are always willing to lend a hand or explain a difficult topic they've covered for years. Need to know about a confusing part of the federal budget? Call the beat reporter up and chat for a few minutes!
I'm very fortunate to work in such a well-known newsroom, and I think I've come much closer to mastering the skills and language of my chosen profession.
But to be able to say I work in the same newsroom as Woodward and Bernstein once did, running up against the same Friday deadline?
That is, for lack of a better phrase anywhere in the dictionary, pretty cool.
The Dean's Internship program pairs SOC's top students with selected partner organizations for semester-long, for-credit internships. The competitive program provides extraordinary opportunities for undergraduates and graduates to have their work featured with named credits and bylines under national brands. Find current opportunities and application information.