Internship Adds Social Media Savvy and Web Bylines to Student's Resume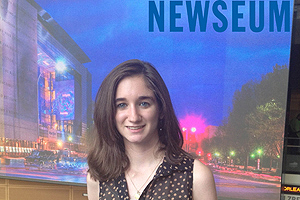 Below is a first person account from Dean's Intern Stephanie Jaar on her summer internship at the Newseum.
For a journalism student, an internship at the Newseum is unlike any other. There isn't the pressure of a fast-paced newsroom, where some interns might be expected to file multiple stories a week. Nor are interns expected to go on coffee runs or make photocopies. Because when you intern at the Newseum, you become a part of the team.
Throughout the summer, I worked in the broadcasting department, one of several departments that make up the Newseum. I worked directly with the online managing editor, Sharon Shahid, and was responsible for updating and moderating the Newseum's Facebook and Pinterest pages. I also had the opportunity to write several stories for the web site, usually about significant anniversaries in news history.
Every day was different, and in that respect, it's like a newsroom. When breaking news happened, we wanted to make sure we were connecting right away with Facebook users. The best example of this was when the Supreme Court ruled on the health care law in June; we immediately asked "What do you think about the Supreme Court upholding the health care law?" The responses we received were diverse, lively and generated good conversation.
At the Newseum, I was able to work at my own pace, yet still make sure posts were timely and relevant. I was encouraged to voice any ideas I might have either for social media outreach or for the website. During the Olympics, we implemented an idea I had called "Hometown Heroes." Every morning, we would search the Newseum's front page database and post on Facebook the ones that featured their local Olympian.
I learned about how social media functions within an organization: its use to reach out to Newseum visitors past, present and future. Online, the Newseum's Facebook page acted as an extension of what the museum offered, providing fun contests for free tickets to the Newseum or interesting "did you know?" facts.
From a journalism standpoint, the internship enriched my knowledge of news history and also provided me with writing experience on different platforms. Writing a Facebook status is different than writing a news story for the web; on social media, details are spared for tight, concise updates. I will definitely carry the skills and knowledge I picked up from my time at the Newseum for any future endeavors.