Journalism
Students Gain Valuable Experience at Univision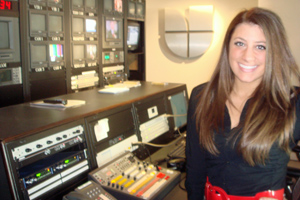 Michelle Carlson and Gabrielle Gorder covered the State of the Union and have White House press passes. Impressive credentials – especially when you consider that they are interns. The two broadcast journalism students landed the prime positions at the Univision Network's DC bureau with the help of their professor Carolyn Brown.
"This is a wonderful opportunity for Michelle and Gabrielle," said Brown. "Not only will they improve both Spanish language and broadcast television skills, but this internship will open doors for them in an area of the media that is growing." 
Gorder and Carlson's experience has included working with the national and local crews, going out on field reports to conduct interviews, selecting soundbites and selecting b-roll video for TV news spots. 
"The DC branch of Univision is small and everything broadcasts out of Miami," Carlson says, which is an advantage. "I am able to get hands-on experience and I work alongside the small crew and do the same jobs they do."  
Both students say the classes they have taken at SOC prepared them to excel at Univision. Carlson notes that an editing project that she did for a course was done exactly the same way as the packages the crew puts together at Univision. "My classes have given me more confidence in the work I do at Univision and I hope the knowledge and experience I gain will help me stand out." 
Broadcast Journalism II is the class Gorder thinks best prepared her for Univision. "I understand the different elements that go into a newscast, I feel comfortable in the control room, I know why the cameraman is getting certain shots and I know why the lighting is set up a particular way." 
In some areas, SOC is ahead of the curve. Both Carlson and Gorder said they were surprised that Univsion still edits in a linear fashion, which is tape to tape. Gorder added, "the staff thinks its great that I know how to use Final Cut and Garage Band and that I have a blog. In fact, I promised to teach one of the producers how to use Final Cut." 
The Univision internship has been a perfect fit for Gorder, who minors in international relations and Spanish and interned last year at Meet the Press. "It touches on all of my interests." Carlson, whose mother is from Nicaragua, says "My mother made sure I would be bilingual in Spanish," she said. "I grew up watching Colombian telenovellas as well as watching Univision newscasts."  
Brown says Spanish-language and bilingual media is the future. "In some big markets in the United States, like Los Angeles, Univision beats out English-language TV-news in ratings," she said. "We too often think of Spanish language media as different or outside the norm. The reality is, it is now mainstream, and it needs to be incorporated into our teaching and practice of Journalism in every way possible."