Students Gain Investigative Experience at Frontline
By Rosemary D'Amour
December 15, 2010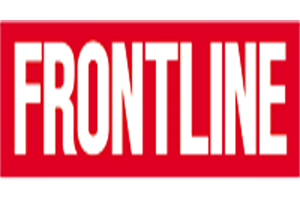 Three SOC students are getting real-world experience in an opportunity unique to AU — interning with the investigative powerhouse Frontline.
Frontline, which since 1983 has been American public television's flagship public affairs series, partnered with SOC and the Investigative Reporting Workshop in 2009 in only its second university partnership.
"The question in journalism today is how you can be more efficient and effective — a lot of that takes you down the road of collaboration," said Rick Young, Frontline senior producer. "But this isn't just a partnership; it's Frontline embedding a working hub in a university."
Students work on various projects, Young said, including one that will be featured in January on immigration detention. Interns research, make Freedom of Information Act requests, gather data on the industry, track down photos and stock footage, and even help in the field and participate in production.
"On day one, you're working," said Rachel Boehm, a Journalism and Public Affairs graduate student, who has been interning with Frontline since September. "There's no running errands, getting coffee. You immediately have a function, you're immediately contributing."
Jack Weingart, an undergraduate Broadcast Journalism major who has had experience interning with CBS News and the Daily Show during its two-week stint in Washington, said he's seen a different side of journalism through this internship.
"It's really interesting, because we're not creating news for the crazy 24-hour news cycle, but really investing in this material, becoming an expert," Weingart said. "You really need a thorough understanding of what you're doing in investigative journalism before you step into the project."
Kari Barber, an MFA student in Film and Media Arts, said that her experience at Frontline has challenged her abilities as a journalist and given her new skills.
"Going from day-to-day journalism to investigative journalism was almost like starting a new career," Barber said. "I'm doing new things. As a journalist, they teach you about FOIA, but until I started working with Frontline I had never seen it, never done it myself."
One of IRW's senior producers, Mishi Ebrahim, said that students are contributing to a real-world product and gaining practical experience they will need in the field.
"Our interns are working on projects here that are actually going to turn into something," Ebrahim said. "We've just started to see how we can get students involved in this project, and we want to do more."
The Workshop and Frontline plan to expand their involvement with SOC students, including offering an Investigative Public Affairs Documentary course taught by Ebrahim this spring.
"We want classrooms be laboratories for cultivating ideas and breeding projects, to have students learning more about how we do what we do, participating in the kind of research that we do in investigative documentary," Young said, adding that both sides benefit for the partnership.
"We are very much part of SOC," he said. "This is about doing quality journalism, but it's also about trying to bring about the next generation of journalists who are going to be doing investigative journalism."