Faculty Success Story
Campaign U Streams Course to Wide Audience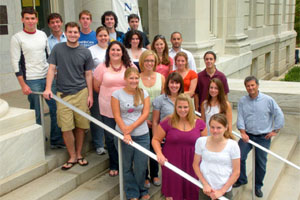 The morning after Barack Obama earned the Democratic nomination for president, Professor Leonard Steinhorn posed a question to his audience, which included many more people than the 20 talented AU students sitting in the classroom.

"What's it all mean to you?" he asked both the students in his Presidential Campaign 2008: Inside the War Room and the News Room class and the audience watching live on a webcast on Washington's Fox-5 TV's Web site. "Do you feel a part of a historic moment, or is it just politics as usual?"

Steinhorn is Fox-5 News' political analyst, and as the 2008 presidential campaign unfolded, virtually everyone was his student. The station created a Web page on which the public could watch the class discuss political topics and could participate via chat rooms. Reporter Tom Fitzgerald followed the Campaign U class throughout the semester, monitoring chats during the discussions and filing reports for Fox-5's newscasts.