Student Success Story
AU SOC Students Work with Gallup, USA Today to Track Young Voters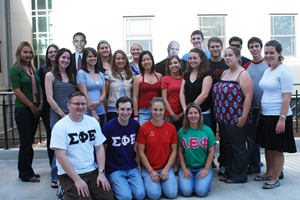 Jim Norman, USA Today's head of polling, stood before the class, having somehow found a few hours in the hectic pre-election days of 2008 to talk with SOC students about the nuances of conducting political polls.
Norman did more than share the best practices of his profession; he was looking for help.
The students in Professor Dotty Lynch's Election '08: Politics, Polls, and the Youth Vote and Professor Lynne Perri's Visual Media classes worked with him to create a poll of voters ages 18 to 29 years old that was published in the nation's largest newspaper.
"It was a hands-on class," said senior Kate Barry about Lynch's course. "I'm into politics. I've never really looked into polling very closely, and this was a great way to find out about it."
Lynch understands the impact young minds can make on a news organization, campaign, or poll. A political consultant for CBS News, she has covered 11 presidential campaigns as a pollster or journalist and coined the term the "gender gap."
"It's always helpful to hear from new people, to hear new ideas, and to understand the way you use the language," she says. The poll, Analysis of Young Voters in the 2008 Election, was released Oct. 28 and published on USA Today's On Politics blog.