Faculty Success Story
Professor Gives Students Real World Film Experience
By Sylvia Carignan
September 29, 2009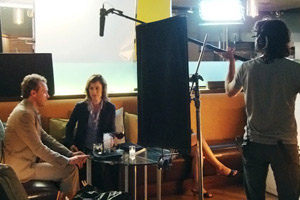 Media Gallery
Professor and filmmaker Claudia Myers knows how to tell a good story. Her short films have screened at Sundance, Hollywood and Los Angeles International film festivals. She's won three different "Best Film" awards, been recognized by New Line Cinema, awarded the Lifetime Student Filmmaker Award, and wrote and directed the feature film Kettle of Fish that premiered at the Tribeca Film Festival. What led Myers to base her new movie in Washington?
Scandals and politics, says Myers. Her new comedy, Below the Beltway, details the experiences of a disgraced lobbyist who tries to restore his reputation by exposing a political sex scandal. Written by Jim Wareck and Brad Weir, the film was shot in and around Washington, D.C. over the summer. The film enlists an all-star cast, including Tate Donovan, Sarah Clarke, Spencer Garrett, and Noah Wyle.

As a producer, Myers recruited nearly a dozen American Univerity School of Communication graduate and undergraduate students as part of her crew. They worked on the set as boom operators, set dressers, production and casting assistants.
Anne Coburn was one of those students. "I was able to give my input to Dave Fraunces, the director, as we worked on his extensive pre-production process, which included defining the action in each scene, down to each line of dialogue." It was "an amazing experience," says Coburn.  
"Giving the students the experience of working on a professional film set was a great asset to them, and the production in turn benefited from their commitment, intelligence and enthusiasm," says Myers.  

As an assistant professor, Myers teaches directing and advanced film writing courses at AU. "As a working filmmaker, I often look for ways to connect my work outside the classroom with my teaching," Myers says.
Student Mary Ratliff worked with the wardrobe department. "You can study the theory and the ideas in a classroom as much as you want to, and you can make films with a tiny crew of friends, but nothing really helps you learn like actually being in a full crew of professionals, especially ones who are willing to teach and want to help you learn," she says. 
The film is currently in post-production. Myers and the rest of the production team are looking towards festival submissions in 2010.