Alumni Success Story
Mary Specht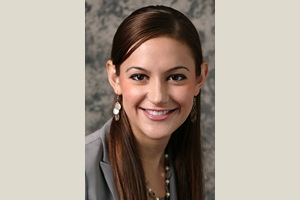 Mary Specht, '07, doesn't waste time. Her first AU semester she interviewed SOC alum Tony Perkins, then the weatherman for Good Morning America, and shadowed NBC newsman Tom Brokaw for Understanding Mass Media, SOC's introductory communication course.

She graduated a year early with a BA in journalism, packing in internships at washingtonpost.com, USA Today, and the State Department. In between, she wrote more than 1000 articles for the Eagle, AU's student newspaper, and produced a Web site for ATV, the campus television station. And one spring break she helped make a minidocumentary for Classroom in the Wild, an SOC course that takes students to the Florida Everglades.

Specht was the first U.S. journalism student to win two Scripps Howard Foundation prizes - a $10,000 scholarship and a summer trip to South Korea and Japan. 
"SOC's professors really did open up numerous oppurtunities for me, and that's essential in a competitive field like journalism," says Specht, now a digital product specialist for Gannett, USA Today's parent and one of the nation's largest media companies.