Alumni Success Story
Pat Butler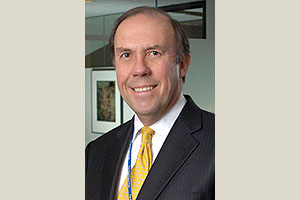 MA '96, Journalism & Public Affairs
Former Vice President, The Washington Post Company
"I like to build things from scratch," says Pat Butler, who during the course of his career launched Newsweek Productions Inc.; what is now the Pew Research Center; and Patrick Butler & Company, a communications consulting firm whose clients included Ronald Reagan, George H. W. Bush, and Cary Grant, among others.

Before running start ups, Butler covered politics for the Chattanooga Post, wrote speeches for President Gerald Ford and directed policy for Senate Majority Leader Howard Baker Jr., also of Tennessee.

Along the way, he earned a master's at AU's School of Communication, where, as a student in its weekend program, he learned to write code for just-emerging online news sites. "The professors were terrific, and my fellow students were great," he says.

His AU experience was so good that Butler didn't hesitate when, almost 10 years later, SOC Dean Larry Kirkman asked him to lead another start-up: the newly created SOC Dean's Advisory Committee, a group of distinguished senior alums committed to helping the school build a new home.

"SOC has a stellar program and professional connections that run so deep they have become a signature element among graduates, "Butler notes. "All that's left is claiming recognition for our success," he argues. "I want to make sure that happens."

Now, after 18 years at The Washington Post Company--most recently as senior vice president managing public policy and new business development—Butler is bringing together all the threads of his career. Since retiring in December, 2008, he's continuing as a consultant to the Post Company, and he has accepted appointments as senior advisor to the Podesta Group, a DC public affairs firm; senior fellow at the Newseum, long-time SOC partner; and Joan Shorenstein Fellow at Harvard's Kennedy School of Government.

And, yes, he's continuing to chair SOC's Dean's Advisory Council.