Student Success Story
Student Sees Future in Social Media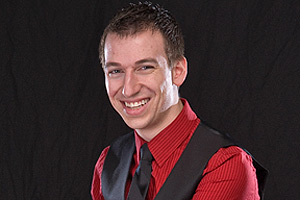 Honors student Alex Priest doesn't do anything halfway. In May, he'll graduate with not one, but two degrees: a BA in public communication from the School of Communication, and a BS in Business Administration from Kogod. He's made the Dean's list every semester. He has had several internships, even when studying abroad in Copenhagen. And he's been nominated for the prestigious American University President's Award.
Last fall, he founded one of the fastest-growing student organizations on campus, the AU Social Media Club (AU-SMCEDU). With an eye to the future, he's considering starting his own media consulting firm, Hello Media, to ensure that wherever he lands after graduation, he can continue to work on the communication projects he loves. "How we communicate is what makes us human. And these [social media] allow us to do that better, faster, and make it more fun."
Priest's first internship was on Capitol Hill. Unlike many students who get their start responding to constituent letters or making coffee, he worked in U.S. Senator Harry Reid's war room in the Capitol Building. When he interned in the communications department of the American Legacy Foundation, best known for is "Truth" campaign against smoking, he put together case studies on how brands used social media to target consumers. His findings gave the organization new insight into where it could best reach its target audiences. "It was great to feel that not only did I gain standard communications skills, but I made a contribution to the institution," he says.
While studying abroad in Copenhagen in the fall semester of '09, he worked with international non-profits around the Climate Change Conference and Olympic deciding committee. Back in the states, as an intern at the Consumer Electronics Association, Priest was CEA's official voice on Twitter for the 2011 International Consumer Electronics Show. His Tweets were followed by 140,000 attendees. 
AU has let Priest maximize his potential, he says. "Being at AU and living in Washington, DC has provided opportunities beyond my wildest dreams. From the incredible opportunities that I've had for demonstrating leadership on campus, to building a robust and thriving network of friends and colleagues in the DC professional community, my four years at AU have been some of the best of my entire life."
AU-SMCEDU is one of the first student chapters of "Social Media Club Education", a movement that seeks better learning using social media. "Today's students learn from each other online. But the traditional educational classroom model does not follow that," Priest says. "Social media - new communications tools overall - are so influential. They are such a leap forward, as big a jump as from snail mail to email."
The group's faculty advisor, SOC professor Lauren Feldman, says, "I have had the privilege of watching Alex, in just a matter of months, develop the Social Media Club from a kernel of an idea into a vital, prominent campus organization -- one which is teeming with student members, inspiring faculty interest, and earning the respect of outside professionals. Alex is a natural leader, with the ability to inspire and mobilize those around him."
One of the group's first events, a panel AU-SMCEDU held at the Ann Ferren Teaching Conference, inspired a professor to hold a snowed-out class on Facebook. Her subsequent blog post on the experience has now appeared on over 30 million users walls. A recent "Hashtag the Campus" contest generated over 1,800 tweets and over 4,000 mentions.
Feldman credits Alex with much of the early success of the group's upcoming "Social Learning Summit 2011" to be held on AU campus April 1-3. "For the conference, Alex has himself secured a number of high profile sponsors and speakers, and is doing a great job of keeping the Club's executive board on track in promoting the event and orchestrating the myriad other details integral to its success."
The weekend-long conference aims to bring together students, educators, and professionals to learn from each other and with each other about what's next in education. Confirmed speakers so far include Peter Corbett, CEO of iStrategy Labs, Danielle Brigida with the National Wildlife Federation, Tammy Gordon of AARP, Debbie Weil, and many other big names in the local and national social media community. Sponsors include Mashable, Deloitte and USA Today. Registration for the conference is $10, and the schedule is available online. Those who can't make the conference can follow the AU Social Media Club on Twitter (@AU_SMCEDU) and on Facebook for updates, and keep an eye on the #SLS11 hashtag.