Alumni Success Story
Alumna's Emmy and Networking Skills Boost Career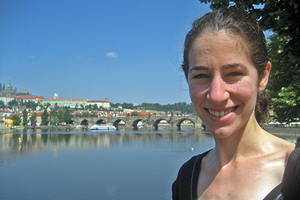 As an MFA student in the School of Communication, Andrea Bloom racked up valuable on-the-job experience and even snagged a Student Emmy for her work on the PBS documentary, EcoViews: The Chesapeake Bay.
Just as important, Bloom, 26, perfected the art of networking.
"The connections you make in grad school are invaluable," she said.  "I can't stress how important it is to network".
As a student, Bloom landed three jobs in film production, including a position with the National Park Service, where she helped produce a video about land use and the Homestead Act. She found all three positions through her connections at SOC.
Bloom advises aspiring filmmakers to "accept that you are going to have to do the grunt work, but also know that the contacts you make will help you long after graduation."
A native Oregonian, Bloom came to AU with an interest in conservation and environmental filmmaking. She was one of 22 SOC students who worked on the award-winning EcoViews, which featured segments on the Anacostia River, the Mattaponi Indian Tribe, the oyster population, and more.
The Emmy is "a great thing to put on the résumé," Bloom laughed. "It definitely gets people's attention!"
Bloom now works as a producer at Arlington, Va.-based VideoTakes, which specializes in projects focused on the environment, energy, health, and human rights. The small firm was founded by SOC professor Sandy Cannon-Brown; Chris Palmer, director of AU's Center for Environmental Filmmaking, serves as CEO.