Alumni Success Story
International Student Launches US Career at SOC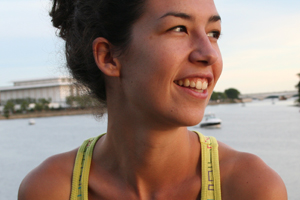 Cristina Fernandez-Pereda, '08
MA, Journalism & Public Affairs


Cristina Fernandez-Pereda came to SOC from Madrid in the fall of 2007 as a master's candidate in journalism. Two years later, she sat down with President Barack Obama at a White House roundtable for members of the Latino media. As a journalist who had honed her craft as an intern at washingtonpost.com and the Washington bureau of El Pais before going on to cover the US presidential race for Soitu.es, the award-winning Spanish online magazine, and to work for New America Media (NAM), the nation's first and largest collaboration of 2000 ethnic news organizations. Today, Cristina continues to work for Soitu.es as Washington correspondent. As a representative of the first Spanish outlet to visit Twitter's office in San Francisco, Cristina applied the knowledge about social media that she gained at SOC to develop an exclusive story and photos. 


Why did you decide to study at American University School of Communication (SOC)?
I wanted to be a foreign correspondent. SOC's location in DC was a major bonus point for me. I had also heard about the school and the journalism program and former students only told me good things about it.
As an international student at AU, what challenges did you face?
Being an international student wasn't always easy – especially not in the beginning. I had to adapt to a new cultural environment. Besides feeling insecure in the language, I had to get used to class participation. At Spanish universities students aren't required to actively participate during lectures; at SOC it's an essential part of each class.
How did the SOC journalism program prepare you for your career?
The faculty at SOC knows exactly what is happening in journalism. When I left school and went to a newsroom as an intern, I saw everything that the professors prepared me for. It's great that the faculty knows what you will need for a job but also trains students accordingly.
What have you gained from SOC?
One thing I learned at SOC is that anything can happen. If you try, and work really hard you'll be able to make it. This helped me when applying for the internship at washingtonpost.com. I was unsure whether they would accept an international student when many native English speakers were applying for the same position. However, I applied and got the internship at the World Section.