Faculty Success Story
It's Easy Teaching Green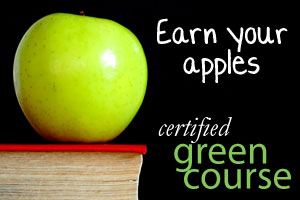 What does it mean to "teach green"? In general, it's an effort by professors to save paper, conserve energy, reduce pollution, and promote sustainability. It can be as simple as using scrap paper for classroom activities, allowing students to bring laptops to class to take notes, or posting readings on Blackboard. Some professors have their students submit their papers through Blackboard and then grade them electronically. Others give online quizzes rather than paper ones or use videoconferencing to bring in guest speakers.
Last semester, the Center for Teaching Excellence and the student group Eco-Sense created the Green Teaching Certificate. This program was piloted in the fall as an attempt to reward faculty members who are green teachers, while giving green courses a familiar face among students. The Green Teaching Certificate is based on a system of self-reporting. Faculty members can qualify by answering a number of questions about their efforts to make their courses more sustainable. Upon evaluation, qualified courses are rewarded with a seal representing one of four different levels of the Green Teaching Certificate. This seal can be put on syllabi and Blackboard pages to market classes as green. 
Forty–four courses were certified last semester. CTE and Eco-Sense celebrate all these efforts by listing certified green teachers and the innovative things they do on a website. This is a great resource for finding ideas to incorporate into your own teaching. For example, Professor David Carlini (CAS-Biology) requires his students to give poster presentations at the end of the semester. Rather than having them print out the posters, though, he has them project their posters onto the wall using presentation software. Professor Jack Child (CAS-LFS) teaches his students about conserving energy. He drops the blinds in his classroom when the sun hits them in the fall and spring and he raises the blinds in the winter. Professor Anna Olsson (SPA) doesn't use any paper at all. She posts the slides and notes from her lectures on the Blackboard site for her class. She also accepts assignments from her students electronically and grades them using MS Word. 
The Green Teaching Certificate is an ongoing effort. The survey for spring courses has been expanded and updated based on feedback from those who completed it last semester. Teaching green can be quite easy if you start by taking small steps. As an added benefit, students' responses have been overwhelmingly positive. We hope more professors will begin to add green aspects to their classes in the spring. If you're interested in certifying your own course, please visit http://www.american.edu/cte/greenteaching/ or stop by the Faculty Corner in Hurst Hall, room 204B.