Faculty Success Story
Faculty Gear Up for New Semester at Teaching Conference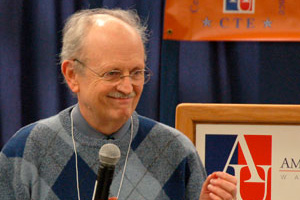 "I felt revitalized afterwards and ready to start the new semester."

Over 350 faculty members attended the twentieth annual Ann Ferren Teaching Conference in January 2009. Faculty members joined in sessions on topics ranging from Integrating Deep Breathing and Mindfulness in the Classroom to Show Me the Money! -- Strategies for Effective Grant Writing and Teaching Classes Students Don't Want to Take. 
The luncheon plenary session speaker was Dr. Ken Bain, author of What the Best College Teachers Do. His interactive discussion on fostering deep learning was "great! Very engaging and gave me a lot to think about."  He also led a session titled, Creating a Natural Critical Learning Environment. 
One popular session was Five Easy Things: Using Technology to Increase Interactivity, led by Prof. Nicole Melander (KSB). One participant enthused, "BRAVO! Revolutionized my thinking!" and another commented, "Great session. There should be another in the Fall. And this should be required for all faculty." Also enjoyed by many faculty was Prof. Chris Palmer (SOC)'s session on Inspiring Students to Become Enthusiastic and Motivated Learners. One faculty attendee raved, "Excellent and very useful suggestions/ideas that I will bring back to the classroom!"
The Ann Ferren Teaching Conference takes place every January, and is planned by a panel of faculty. If you would like to be involved in the planning process, please contact CTE Associate Director John Doolittle at doolittle@american.edu.