Alumni Success Story
Garcia Wins Two Regional Emmy Awards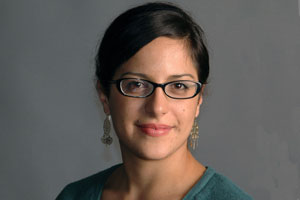 Multimedia journalist Alexandra Garcia, SOC/BA '05, received two regional Emmy Awards this summer for her work on washingtonpost.com.
Garcia was a producer, video journalist and editor for her online video series, "Scene In," which traces the style sense of Washingtonians in sixteen areas throughout the city. She was also a producer and journalist for "My Kidney, His Life," which chronicled the process fellow producer and journalist Pierre Kattar went through to donate a kidney.

In 2009, Garcia received acclaim for her piece "The Healing Fields: Hidden Hurt," documenting the annual pilgrimage made by thousands of uninsured and underinsured patients to Wise County, VA, in hopes of receiving medical and dental treatment from the Remote Area Medical Volunteer Corps. She was awarded the Concentra Award for Outstanding Video Journalism, which recognizes one piece each year by a journalist who reports, shoots and edits a story. The Healing Fields was also awarded first place in the NPPA Best of Photojournalism News contest and nominated for a national Emmy.

"I definitely wouldn't be where I am if not for AU," says Garcia, who started at washingtonpost.com as an intern. After graduation, Garcia was hired full-time as a photo editor, and eventually transitioned to her current position as a video journalist.