Faculty Success Story
AU SOC Professor Matt Nisbet: Making Sense of Science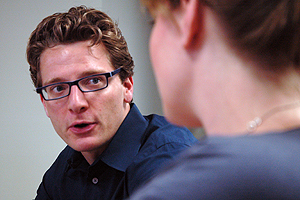 Global warming and stem cell research: These are fodder for Framing Science, the blog from SOC Professor Matt Nisbet that Columbia Journalism Review called a top Web resource for science journalists.
Nisbet was recently quoted in The New York Times suggesting that Al Gore's focus on catastrophe opens his climate change arguments to criticism from opponents like Washington Post columnist George Will, saying "…his message is very easily countered by people such as Will as global-warming alarmism, shifting the focus back to their preferred emphasis on scientific uncertainty and dueling expert views."
He added that criticism of Will's arguments "only serves to draw attention to his claims while reinforcing a larger false narrative that liberals and the mainstream press are seeking to censor rival scientific evidence and views."
With degrees from Dartmouth and Cornell and an impressive list of oft-cited articles in peer-reviewed journals, Nisbet helps scientists educate a skeptical public, reframing their findings in terms of shared values, scientific promise, transparency, and economic benefits.
"Scientists have traditionally communicated with the rest of us by inundating the public with facts; but data dumps often don't work," he said in a Washington Post commentary written with Chris Mooney of Seed magazine. "Making complicated issues personally meaningful will activate public support much more effectively than blinding people with science," Nisbet added.
Nisbet has analyzed how popular media cover issues ranging from stem cell research to the debate over evolution, examining the connection to public opinion and policy decisions. His current research on climate change communication is funded by the Robert Wood Johnson Foundation, where he is an Investigator in Health Policy Research. Nisbet is also a research fellow with the Center for Social Media and has worked with leading organizations such as the National Academies of Science, the Corporation for Public Broadcasting, the Centers for Disease Control, the National Science Foundation, and the Exploratorium science museum. He is a frequently invited lecturer at universities and meetings across North America and Europe.