Alumni Success Story
Alumna Racks Up Awards for Reporting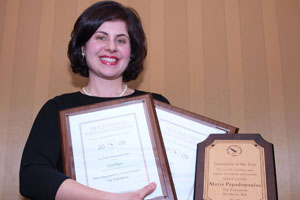 Maria Papadopoulos knows how to win awards. Papadopoulos, SOC/MA '01, took home first place honors in transportation reporting and second place honors in the video category at the New England Newspaper and Press Association's Better Newspaper Contest in Boston on February 6. 
Her transportation package focused on a series of fatal pedestrian accidents and the hazards of jaywalking. She also took second place in the video category for Ambushed by Illness which focused on Army Specialist James Bowlby, 24, of Lakeville, Mass. who died in 2008 from a medical disorder that his family suspects might have been linked to his wartime service in Iraq.
In 2009, the judges at the NENPA named her Journalist of the Year, noting that "Her writing is clear and engaging, with consistently remarkable details, very thorough reporting. Excellent!"

Papadopoulos, a general assignment reporter at The Enterprise in Brockton, Mass. for more than five years, also scooped up two, first-place awards—one for her video of an elderly man shot in his driveway, and another for her series about the closing of St. Casimir Catholic Church in Brockton.
Although primarily a print reporter, Papdopoulos always carries her video camera in the field, and regularly produces news packages for The Enterprise.

It pays off with on-air exposure—and awards. She appeared on FOX's On The Record With Greta Van Susteren to talk about covering the sudden disappearance of Rhode Island college students. In 2007, she was a guest on the nationally-syndicated Mitch Albom Show to discuss her coverage of a six-year-old Brockton boy accused by his school of sexually harassing a girl in his class. The story gained global attention—and another first prize for Papadopoulos from the New England Press Association, this time in education reporting.

"Attending American University was the best decision I have ever made," said Papadopoulos. "The professors at AU were always supportive and innovative. To this day, I look to principles and lessons learned from AU when I write a news story or produce a news video on deadline."