Student Success Story
Student's Summer of Success
Sales Manager, Theatrical Distribution MGM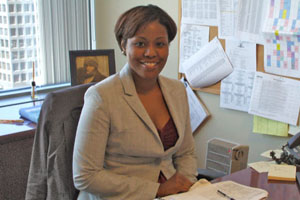 Tamara Reid came to SOC with an undergraduate degree in Civil Engineering and an MBA, looking for a new career. She chose SOC because she believed it would provide her the professional foundation she needed to become a screenwriter. Tamara credits Summer in L.A. as the key to her new career at MGM.
Why I chose to participate in Summer in L.A.
I wanted to participate in the Summer in L.A. because I wanted to learn first-hand what it would take to be successful in L.A. from the people who were actually doing it. To prepare myself, I enrolled in Executive Suite, another of Summer in L.A. director Russell Williams' courses, for an introduction to what she could expect with the Summer in L.A. program. i also looked at Executive Suite as an opportunity to build a relationship with Williams so that the Summer in L.A. program would be more beneficial.
What I gained from the experience
A job! The experience in LA was amazing. I was able to talk to Alumni living the "L.A. experience" and actually see them doing it. It put together the theoretical things I had learned while at SOC with the practical experience that working in the industry afforded. The summer gave me the opportunity to pursue my career while still having "training wheels"; I was able to experience L.A. with my classmates and gain an understanding of the industry without having to delve into it head-first alone.