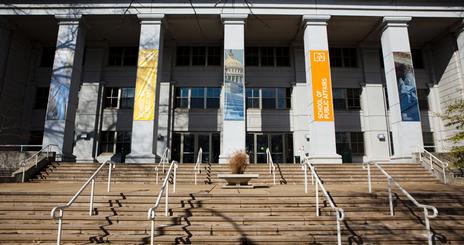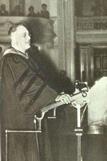 FDR at Chancellor Gray's inauguration
The School of Public Affairs was born in 1934 in response to a national crisis.
The capital city that year was on a roller-coaster ride of anxiety and optimism. A quarter of Americans were out of work, and some were so desperate they were selling apples near the Capitol. But at the White House a new president, Franklin Delano Roosevelt, had promised "a New Deal" for Americans. As Roosevelt put his signature on the legislation, a program was born at 19th & F St. that would train many of those who were part of the pioneering plan.
At the beginning it wasn't called the School of Public Affairs. It was a program to train federal workers in techniques to make the New Deal a success, but it would grow into one of the top schools of public affairs in the nation.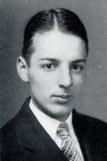 Arthur Fleming
Arthur Flemming, MA '28, graduated just in time to put his degree in political science to use as a reporter, covering a Washington filled with breadlines, protest marches, and policies that weren't working. When Roosevelt was elected, Flemming believed his alma mater could be part of the new president's vision. Not yet 30 years old, the alumnus won AU the grant that started it all: $4,000 from the Rockefeller Foundation, about the price at the time of a midsized house.
The school had a flood of applications from hundreds of federal employees competing for the 80 slots in the first semester. Two hundred students packed the converted parlors in row houses near the White House for the second semester, eager to learn the latest ideas and take them back to their New Deal jobs. By 1937, more than 1,000 federal employees were studying at SPA, and the school launched an undergraduate program.
Small and specialized before World War II, the program was inundated after the war by combat veterans in their 20s who knew what they wanted: to continue serving their country in peacetime.
Evolution of SPA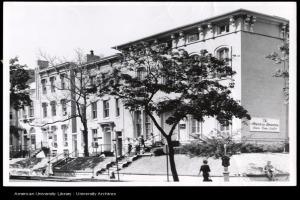 Washington was about to change, and so would SPA. If the school was born from the crisis of the 1930s, it would come of age in the tumult of the 1960s.
The era began in a wave of idealism. "Kids were thinking about the Peace Corps, getting involved in the war on poverty, the public health service," Howard McCurdy recalls. "They didn't view it as being bureaucrats chained to a desk. There was a real attraction to public service, to working for the government as a place where you could really get something done."
Then as now, students interned on Capitol Hill, working with lawmakers during the birth of Medicare and Medicaid, federal education funding, the National Endowment for the Arts, environmental legislation, and a long list of acts and programs to address racial injustice and poverty. Ultimately, many SPA alumni would find careers in government agencies, nonprofits, and institutions that had their roots in this expanded sense of what government should be trying to do.
SPA Today and Tomorrow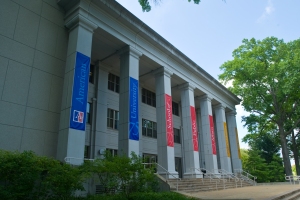 The next four decades would find less drama on campus, but many changes in the scope of government and nature of Washington.
"The practice of politics has changed dramatically," University President Neil Kerwin says. "It's highly professional. Congress still performs the same constitutional roles, but it's organized differently. The practice of advocacy for interests has grown immensely more sophisticated."
SPA's Center for Congressional and Presidential Studies has taken on precisely that issue with its scholarship and teaching, its Campaign Management Institute and its Public Affairs and Advocacy Institute. When Professor Thurber began the center in 1979, it was unique in the United States. Many of SPA's students with an interest in politics had always volunteered on campaigns, but as politics professionalized, SPA was on the cutting edge with its own systematic approach to teaching the business of politics.
Another center that places SPA squarely in the midst of political power is the Women and Politics Institute. Most of Washington's most prominent women have links with the institute, from Sen. Hillary Clinton to Rep. Nancy Pelosi to dozens of others. Targeted academic programs on women, policy, and political leadership are helping to foster the next generation of women leaders.
SPA's proud tradition of success has put it at the threshold of an exciting new chapter in its history. We have an ambitious vision for the future that builds on our strengths and honors our formidable legacy. 
As public problems become more complex, interconnected and multigenerational, our scholars and practitioners will work together to produce research that informs today's issues and anticipates and tackles tomorrow's challenges. Practitioners and scholars will learn from each other and share those insights with students. The result will be synergy between theory and practice that has a demonstrable influence on public affairs for both national and international arenas.

The Founding of SPA: A President's Support
Read President Gray's 1934 New York Times article about SPA's founding.
Check out the program from President Gray's inauguration ceremony, during which President Franklin D. Roosevelt spoke to SPA's bright potential: "Among the universities of the land American University is yet young; but you have a great future – a great opportunity for initiative, for constructive thinking, for practical idealism, and for national service."

#4ScoreSPA

SPA celebrated its 80th Anniversary in 2014.