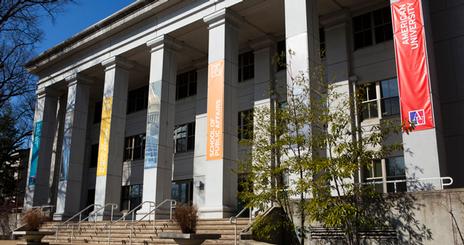 Visiting SPA
If you are thinking about joining the SPA community, the School of Public Affairs welcomes guests to visit its home in the Ward Circle Building on AU's main campus.
Prospective Graduate Students

As a prospective graduate student, you may schedule a meeting with a member of the Graduate Admissions department. Whenever possible, your visit will include a meeting with a current student, academic advisor, or faculty member.
Prospective Undergraduate Students
As a prospective undergraduate student thinking about attending American University, we encourage you to visit our campus. If you would like to learn more, arrange a visit and speak with an SPA staff member please contact the Manager of Undergraduate Recruitment & Retention (information is below) or contact the AU Welcome Center.
Justin M. Williams
Manager of Undergraduate Recruitment & Retention
aupublicaffairs@american.edu
202-885-6480

Success Story

SPA Student Applies Policy Classwork to Classroom Policy
Just recently, Rauch became the legislative advisor on education to the Chairman of the DC City Council. Now, more than ever, he is able to put his coursework into action.
More Success Stories