Prof. Thurber Discusses Lobbying With Ukrainian Students and Scholars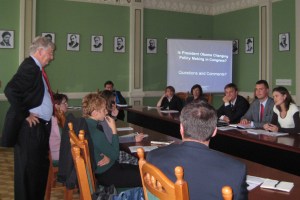 Prof. Thurber discusses lobbying with students in Ukraine.
CCPS Director and Distinguished Professor of Political Science James Thurber recently spoke to students of Ukraine's National Aviation University in person as well as via Internet with students at Kremenchuk State Polytechnic University about lobbying and ethics. The stories are linked here and here. The pages are in Ukrainian, but Google's Translate tool does an adequate job of translating the text to English.

Norm Eisen headlines Lobby Reform Conference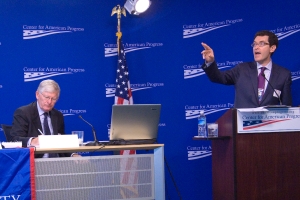 The Center for Congressional and Presidential Studies and the Center for American Progress hosted a symposium titled "Undue Influence?: Improving the Regulation of Lobbying" Monday, Sept. 14. Norm Eisen, special counsel to the president for ethics and government reform, was the keynote speaker.
The Center for American Progress has posted video of the forum here.
Mr. Eisen discussed the lobbying reforms instituted by the White House under president Obama. These reforms include a general ban (with a handful of exceptions) on lobbyists working for the administration in the same field in which they did recent lobbying work; posting records of nearly all visitors to the White House; and greater transparency, particularly in the decision stages of competitive grant applications.
"We are not here to do the bidding of the special interests..., but to serve the public interest," Eisen told the audience.
Other guest panelists included:
Scott Lilly, Chair (Senior Fellow at the Center for American Progress)
Bob Kaiser (Associate Editor and Senior Correspondent for the Washington Post, author of So Damn Much Money: The Triumph of Lobbying and the Corrosion of American Government)
Wendell Potter (Senior Fellow at the Center for Media and Democracy, formally director of communications for Cigna, one of the nation's largest health insurers.)
James A. Thurber, Chair (Distinguished Professor of Government at American University, Director of the Center for Congressional and Presidential Studies)
Patrick J. Griffin (Scholar in residence in the Department of Government and the Center for Congressional and Presidential Studies and Academic Director of the Public Affairs and Advocacy Institute, formerly served as assistant to the President for legislative affairs in the Clinton White House)
Melanie Sloan (Executive Director, Citizens for Responsibility and Ethics in Washington)
Barbara Sinclair (Professor of American Politics, University of California at Los Angeles, author of six books and numerous articles on Congress and the legislative process)
Thomas Susman Chair, (Director, Government Affairs Office for the American Bar Association and co-author of The Lobbying Manual, a Complete Guide to Federal Law Governing Lawyers and Lobbyists published by the ABA)
Joseph J. Minarik (Senior Vice President and Director of Research Committee for Economic Development)
William Luneburg (Professor, University of Pittsburgh School of Law, co-author of The Lobbying Manual, a Complete Guide to Federal Law Governing Lawyers and Lobbyists published by the ABA)
Press coverage of the symposium:
Center for Responsive Politics: Symposium panelists agree: More disclosure of federal lobbying needed
National Journal: Eisen: Media Attention On Ethics Is Good
American University Press Release: CCPS Cosponsors Conference on Lobbying
Presentations from the conference:
Prof. Thurber's opening statement
Prof. Thurber's Power Point Presentation
Prof. Thurber's Power Point Detailing the Structure of the Washington Lobbying Community
Prof. William Luneburg's opening statement
Melanie Sloan's opening statement
Pat Griffin's opening statement
Bibliography of announcements and executive orders on lobbying and ethics rules from Norm Eisen's office

Video from the forum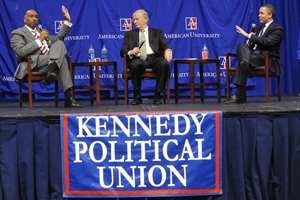 Michael Steele, left, and Harold Ford Jr., right, held a lively debate moderated by SPA professor James Thurber, center. (Photo: Hilary Schwab)
Ford and Steele Debate

Republican National Committee Chairman Michael Steele and Democratic Leadership Council Chairman Harold Ford Jr. verbally sparred over current political topics Saturday, Oct. 24, 2009. The debate was hosted by the Kennedy Political Union and moderated by CCPS director Prof. James Thurber. Read coverage | Watch the video
Bryce Harlow Foundation Award winner announced
Ryan Miskell won the Bryce Harlow Foundation best paper award for the Ethics & Lobbying weekend workshop for Spring, 2009. Miskell's paper, President Obama's Attempt to Close the Revolving Door and Its Impact on Advocacy is posted here.

The Bryce Harlow Foundation best paper award recognizes the top paper among those written by students in the weekend workshop as determined by the faculty and the Bryce Harlow Foundation board.