Congress and the Presidency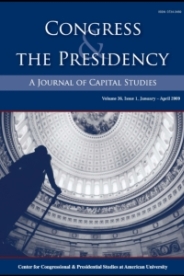 This publication is an interdisciplinary journal of political science and history, published by American University, Center for Congressional and Presidential Studies since 1984. The journal is now being published three times a year. Congress & the Presidency features articles on Congress, the President, the interaction between the two institutions, and national policy-making.
 

Editors
James A. Thurber
Reviews & Book Editor
Jeffrey Crouch
Assistant Professor of American Politics
American University, Washington Mentorship/Semester


TO SUBMIT A MANUSCRIPT
Visit our online submission and review site:
http://mc.manuscriptcentral.com/UCTP 

Articles should be double-spaced throughout, using reference-in-text format, with footnotes, references, tables, and figures on separate pages. Total pages, including references and footnotes, should not exceed 40 pages (250 words per pages). Congress & The Presidency follows the APSA Style Manual.

To allow for a blind review process, the manuscript itself should be anonymous and not include any information that identifies the authors or any collaborators in the work.

For subscription information please see our site at Routledge/Taylor & Francis.
Contact the Journal
For questions regarding the journal, please contact Managing Editor Kristin Miano at km1733a@atudent.american.edu


Please Send Books for Review to:

Jeffrey Crouch
American University
Brandywine 312
4400 Massachusetts Avenue, NW
Washington, DC 20016