Government & Politics
Obama's Media Guru Brings Message to Campaign Management Institute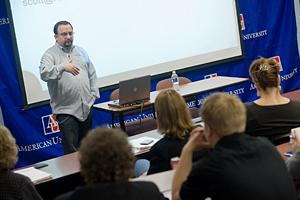 As a budding political upstart, Scott Goodstein stood in shopping malls handing out literature to potential voters.
"What I do now is no different, only there are millions of people shopping," he said Jan. 6 at AU's Campaign Management Institute.
External online director for the Barack Obama campaign, Goodstein, SPA/BA '95, SPA/MPA '99, harnessed the power of the new media in ways no campaign had before. He created Obama groups on popular social networking sites like MySpace and Facebook, and on lesser known ones like Disaboom.com, a forum for the disabled. The campaign also reached mobile phone users through text messaging, voice messaging, and ringtones, creating what David Talbot, writing in MIT's Technology Review, called "the best online political machine the nation has ever seen."
"All the technology is based on the message," Goodstein told the CMI class. "What you have to figure out is how [to] get information out to build toward a critical mass, and not lose people."
Led by Goodstein, the Obama campaign pieced that puzzle together from the start. Nearly 2 million people joined Obama's MySpace network, but in order to more specifically target potential voters and volunteers, the campaign created 57 individual state Obama pages. Obama's Facebook friends now number more than 3 million.
Obama wasn't the only candidate to tap into these new networks; he was just the most effective.
"John Edwards beat us on a lot of this stuff," Goodstein said. "They were on a gazillion social networks. My strategy was it had to be a tool to lead back to organizing."
The campaign truly broke ground when it came to the use of mobile phones.
"Phones are the only device with more people than the Internet," he said. "There is no digital divide. There is not a person in rural America that does not have a phone on them."
The numbers don't lie. About 262 million Americans—or 84 percent of the population—have a mobile phone. And they love to use them.
"People really, really like text messaging," Goodstein said. "You're text messaging your boyfriend or girlfriend, your three best friends, and Barack Obama. It's very personal."
The campaign was able to build a network of about 1 million cell phone users by encouraging supporters to sign up to receive text messages. When Obama chose Joe Biden as his running mate, the campaign's mobile phone network was informed via text message in the middle of the night. This created a feeling of ownership in the campaign among supporters.
The tool proved to be practical as well. When a judge ordered the polls in Ohio's Cuyahoga County to stay open until 9 p.m. on election night, Obama supporters were informed via text message. Diehards were encouraged to come to the county to continue helping get out the vote.
Mobile communication is a tool used to rally the base, not for persuasion, Goodstein said.
"There is no substitute for speaking directly to voters," he said. "If I have a choice of getting out and talking to voters for 20 minutes or sitting inside and texting, I should get out. The tools are very powerful, but the game is still about your message, time, people, and money."
Students in the institute, housed in the School of Public Affairs, peppered Goodstein with practical questions as well as big picture ones. The intense two-week course provides students with the training needed to work in local, state, and federal campaigns. Goodstein was one of many speakers, including alumna Sarah Simmons, a strategist for John McCain's campaign.