On Campus
The Green Wonks of CAS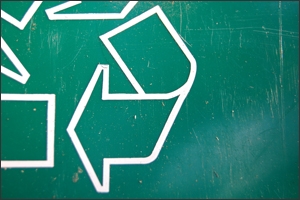 At AU, we take sustainability seriously, and the College of Arts and Sciences is no exception. From green teaching practices to courses focused on sustainability, to solar rooftops, CAS is pushing the green agenda all across campus.
Students might be surprised to hear that while professors are grading them, the professors themselves are also being graded—on a scale of apples. Apple-grading is part of the Center for Teaching, Research, and Learning's Green Teaching Certificate program that was launched in 2008. Professors are graded on green and sustainable practices, including reducing paper use in the classroom, saving and reducing energy by turning off unused classroom equipment, and reducing emissions by biking, walking, or taking public transit to campus and encouraging students to do so as well. Each green initiative adds points to the professor's score, ranking them on five levels. To date, 57 professors in the College of Arts and Sciences have been certified as Green Teachers. Of the 57, 30 have received Four Apples or higher, with nine achieving Gold status.
The Green Teaching Certificate is just one part of CAS's push for sustainability and a greener community of Eagles. In 2012 alone, CAS offered 468 courses related to sustainability and 38 faculty members were involved in sustainability research. For instance, Assistant Professor Stephen MacAvoy in the Department of Environmental Science is working on nutrient research on campus green roofs.
CAS students are in on the green action as well. This past fall, Associate Professor Kiho Kim worked with students in an environmental science capstone class to collect data for our campus-wide LEED (Leadership in Energy & Environmental Design) program. The students gathered data relating to indoor air quality, green cleaning, and sustainable purchasing in various buildings which will eventually be submitted to the Green Building Certification Institute to rate our existing buildings. In addition to working to get all of our buildings across campus LEED certified, two of our CAS buildings—Katzen and the Greenberg Theater—currently house a portion of AU's solar array, with Katzen housing the largest portion of AU's solar panels.
And outside of the classroom, faculty and staff are working to make their offices greener and more efficient by participating in the Office of Sustainability's newest endeavor: AsustainableU, a revamped version of the Green Office (GO!) program. Through AsustainableU, faculty and staff can track their progress on a social networking site, recording each time they take public transportation, walk or bike to campus, carpool, and even telecommute. As the program grows to include green acts outside of transportation—activities such as recycling and composting, ordering recycled and biodegradable products, and conserving energy in the office—co-workers can share their green acts with others, thus encouraging more of the same. CAS is working to build this online green community in many offices, including the Dean's Office, the departments of psychology, computer science, physics, and literature, and the School of Education, Teaching, and Health. Since CAS joined the site in October of last year, faculty and staff have committed 161 'acts' of green, saving a total of 31,161 pounds of greenhouse gases.
The AsustainableU program will be launched to include students in the coming weeks, a venture that holds new possibilities to unify students, faculty, and staff in AU's commitment to sustainability.