In the Community
SIS Professor Launches Book on National Security Reform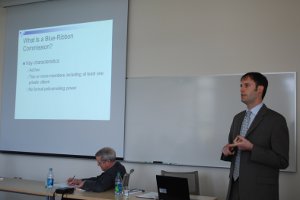 Do blue-ribbon commissions influence policy? In what circumstances can they drive change? How do they catalyze policy reform? 
These three questions form the basis of Assistant Professor Jordan Tama's new book, Terrorism and National Security Reform: How Commissions Can Drive Change During Crises, which was launched on Wednesday, April 13. The event was cosponsored by the U.S. Foreign Policy Program and AU's Center for Congressional and Presidential Studies at the School of Public Affairs.
After examining over fifty national security commissions from the years 1981 to 2006, measuring how often the groups' recommendations were adopted, and conducting over 200 interviews, Professor Tama discovered that crisis response commissions often prompt important policy reforms, particularly when the commission is formed by the executive branch of the government, when the mandate given to it is relatively narrow, and when it is able to reach consensus. "A unanimous report sends a powerful political signal," he noted.

The Hart-Rudman Commission, for example, predicted in early 2001 that a terrorist attack on the U.S. was forthcoming, and recommended the creation of a homeland security agency.  After 9/11, the report induced members of Congress to support legislation based on its recommendation, and the Department of Homeland Security was subsequently created. "We might not have this department if not for a commission," Dr. Tama said.  (The 9/11 Commission also validated his findings. It "had more credibility than a Congressional 9/11 probe," he explained, partially due to its unanimous report and bipartisan makeup.)

Joining the program was Dr. I.M. "Mac" Destler, Saul I. Stern Professor of Civic Engagement at the University of Maryland's School of Public Policy, and an authority on U.S. foreign policymaking. Dr. Destler praised Terrorism and National Security Reform as "a sophisticated and quite straightforward and sensible" book, with a "real sense of how policy processes work."
Dr. Tama's next projects will include a study on Congress and foreign policy in conjunction with Associate Professor Sharon Weiner, also of the U.S. Foreign Policy program, and one on strategic planning in national security policy.