On Campus
Cultural, Professional Diversity in the New Professional MBA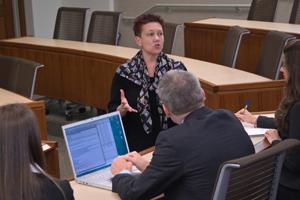 This fall, Kogod welcomed its first cohort of students to the Professional MBA (PMBA) Program.
A program for working professionals, the inaugural cohort brings extensive experience to the classroom, with an average of 4.5 years in the workplace. The cohort is also demographically diverse; 62 percent of the class is female.
"The group has six international students and individuals from many different professions," said William VanCise, a former Marine. "This diversity will…ultimately help us learn different approaches to solving problems."
The cohort's 34 students work in 11 different industries. Careers represented include professional engineers, PR specialists, members of the military, and management trainees.
"Already, this diversity has added value to class discussions and projects as a result of the different outlook that we have on various issues," said Susan Fortkiewicz, a senior analyst at a marketing research firm. "The diversity of who we are and where we work is going to leave a lasting impression on all of us."
Fortkiewicz looks forward to bringing the lessons she learns in the classroom from her peers and professors to the office.
"Peer learning in a cohort is an overwhelming value proposition; it is a dimension that will serve our students most favorably," said Jill Klein, PMBA program director.
Choosing Kogod
After spending seven years in the United States Marine Corps, most recently as a captain, VanCise chose Kogod's PMBA program because the curriculum and the school's location fit into his life.
"The new 27-month cohort style really appealed to me, and so far I'm very happy with my decision," VanCise said.
The cohort meets for class on campus one night a week over seven consecutive semesters. A global learning travel experience and convenient concierge services are included.
"You can tell Kogod has thought through every detail to make the program fit with your work and personal life," said Brad Matanin, an associate scientist who works in biopharmaceutical process development.
Matanin chose Kogod's PMBA program because it packaged an MBA in a lock-step, cohort style.
"Moving through the program as a cohort that takes the same classes is tremendously valuable in a part-time program," Matanin said. "You can build and leverage relationships that last for 27 months rather than just a semester."
Matanin believes the cohort's position as the first of its kind will be another strength.
"It will allow us to…challenge the status quo," he said.