Achievements
Commencement Speaker Says SOC Community Key to Her Success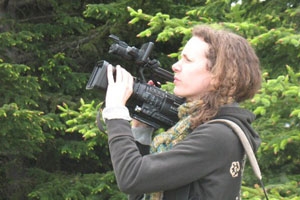 School of Communication graduate commencement speaker Kari Barber exemplifies the experience and dedication that makes SOC's students stand out.
Having previously worked as a freelance journalist producing television, radio and print features in West Africa, Barber chose to pursue an MFA in Film and Electronic Media at American University to better hone specific skills. Not only has Barber attained her degree, interned with PBS' Frontline for two documentaries, and directed her own documentary thesis project, but she also has had two children while in the program. These experiences have shaped the message Barber will share with her peers at graduation.
"I really want to address the community. I think AU and SOC in particular do a great job of fostering a sense of community and helping students learn to work as a team in challenging situations, which is a strength of AU and SOC students that we can bring into the workplace and into our world," she explains.
As a student and a mother, Barber is also very appreciative of SOC's support in all aspects of her education.
"On a personal level I will talk about being a mother and a student," she says. "In all honesty we need to start talking about and thinking about as a society how we can make educational institutions and workplaces family friendly. SOC was a very supportive place for me in this respect."
 SOC staff and faculty were extremely supportive, says Barber. "I always felt like the staff was on my side and would do anything in their power to help me be successful and achieve my dreams," she explains.
"The professors are so diverse in their backgrounds, interests and strengths. That really allowed me to explore different styles, methods and areas of film and emerge with a voice, I believe, that is truly my own."
Since completing her MFA in December, Barber has made the most of her time and talents. She traveled to the Dominican Republic to fulfill her dream of learning Spanish, visited West Africa and France, and has been preparing her thesis film Baking Alaska for various film festivals. In the fall she will begin her job as an assistant professor of journalism at the University of Nevada, Reno.
Being selected as a commencement speaker means a great deal to Barber, who sees this as an opportunity to give back to the school that gave her so much.
"I wanted to do it because I am so proud of the work I did at AU and how far I came through the program, and I am so proud of my classmates who have done amazing films and media work and are going to amazing jobs," says Barber. "I couldn't imagine a greater honor from my time at AU."