On Campus
Ambassadors Support Campus Culture Shift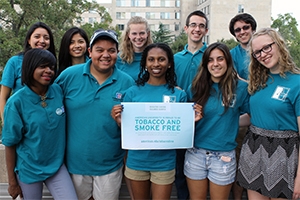 Campus Compact

American University is a tobacco- and smoke-free campus. Signs and banners announcing the policy frame the campus, but the university is also going for a more personal touch to let the community and its visitors know about this healthy change.

That's why AU's hired about a dozen tobacco-free ambassadors—students who circulate around campus to share information about the policy, which removes designated smoking areas in December.

Freshman international studies major Anthony Constantini was more than excited to learn that his college home would be smoke-free when he arrived. With death and illness in his family due to smoking, he jumped at the opportunity to represent the new campus policy.

"When I heard about this policy, I was absolutely thrilled. I wanted to do anything I could to help it out," he said. "People have been very receptive to it."

Freshman economics major Kade Freeman serves alongside Constantini as an ambassador, spending a handful of hours walking the university grounds each week.

"When I found out about the policy, I just thought it was natural," he explained, noting AU's living-learning environment on campus. "If smoking is prohibited indoors, this is a campus space where learning is happening everywhere. Prohibiting it campuswide seems like a logical next step."

For Freeman, however, he felt his personal background with smoking would help in his duties as ambassador.

"I was a smoker...I knew I could relate to other smokers on campus better than somebody who's never had experience with tobacco before," he said. "You have to make sure that you're enforcing a policy, not an ideology. There's a fine line where that's drawn."

Breath of Fresh Air

Freshman criminal justice major and ambassador Jennifer Hightower felt a great relief when she heard about the policy. In fact, she could breathe a lot easier knowing she wouldn't find smoke on campus.

"I'm asthmatic…A lot of my friends on campus have asthma," she explained. "So, I wanted to do a job that actually corresponds to something I care about…I feel like this is really helping to improve the healthy environment on campus here."

And a healthy environment is what the new policy is all about.

On Thursday, Nov. 21, the university celebrates the American Cancer Society's Great American Smokeout, a nationwide effort encouraging smokers to consider quitting. Students, staff, and faculty can pick up smoking cessation resources and commitment cards throughout the day in Mary Graydon Center.

"We are a university that cares about the environment," Hightower said. "We consider the health of people who go here. It says a lot about the university...I think a lot more people will respect us because of this policy. AU is already the ultimate school of community engagement…This furthers that reputation."

A Community Effort

While Constantini roams campus to inform people of the policy, at the end of the day he knows there's only so much informing that one can do; instead, he hopes his job simply helps a culture shift on campus that already seems well under way.

"Honestly, I hope it continues like this. Speed limits are there, but people still speed. In the same way, people will still smoke," he explained. "The point of speed limits is not to stop everyone from speeding; it's to get a cooperative policy of people trying to be safe…[We want] to build a culture of cooperation."