Current Projects
---
Partnership on Technology Innovation and the Environment: Water Technology Initiative
In this project, the Center for Environmental Policy provides management and analytical support for the Partnership on Technology Innovation and the Environment and its first initiative on water technology innovation. The water technology initiative began in January 2014 and will conclude its initial phase with a workshop in June 2014.
The Partnership on Technology Innovation and the Environment is a nonbinding, voluntary collaborative of business, government, academic and environmental organizations committed to accelerating the development, adoption, deployment and export of technologies that protect health and the environment, because they contribute to the growth of the U.S. economy and create American jobs.
In addition to the Center for Environmental Policy, members of the partnership include the Environmental Protection Agency, Department of Commerce, Nicholas Institute for Environmental Policy Solutions at Duke University, Environmental Defense Fund and World Business Council for Sustainable Development.
The partnership grew out of the Technology Market Summit that was held at American University in May 2012. Several current members served as co-sponsors and organizers of that summit, which also had participation from several federal agencies, the investment community, technology firms, universities and environmental organizations. The participants established the partnership to continue the dialogue, analysis and collaborations from the summit.
The partnership seeks to promote water technology innovation. The three initial areas of focus are monitoring of nutrients and other nonpoint agricultural pollutants; reuse and recycling of nutrients in wastewater; and monitoring and efficiency of drinking-water supply systems.


Collaborative Environmental Governance Annotated Bibliography
This reference guide provides a quick summary of empirical and theoretical contributions to the field of collaborative environmental governance. Annotations summarize the purpose of the article, research design, and empirical findings or theoretical contribution for each reference. This project is evolutionary and will be updated periodically to reflect developments in the field. Please feel free to email Jenny Biddle with a suggestion of a literary papers or books that are essential in advancing the study and practice of collaborative environmental governance.
Kimberly Richards, MS in public administration and policy, wrote the annotations for the listed references.
View the annotated bibliography »
Collaborative Governance Mapping Project
This project seeks to map the connections between concepts related to collaborative governance in an effort to promote advancement in the field by connecting literature across academic disciplines. The lack of concise terminology describing collaborative governance phenomena is a barrier for theory building. Research assessing collaboration as a governance strategy frequently fails to include relevant studies due to the lack of a common vocabulary. This project begins to address this issue by distinguishing collaborative governance terminology and drawing linkages between scholars who are using different terms to describe the same thing.
To do this, we will utilize social network analysis software, specifically correspondence analysis to assess the following: (1) the extent to which terms are commonly cited or co-cited by scholars; (2) the extent to which terminology used by scholars are conceptually similar; and (3) the extent to which terms are shared across academic disciplines.
The utility in this demonstration is that it provides a sense of whether the spatial clustering of terms and scholars seems to correspond to formally delineated fields of study or whether the clusters seem to suggest more emergent fields. In assessing the ties between scholars and concepts, 63 prominent scholars studying similar phenomena of collaborative governance were entered into UCINET, along with 16 concept terms they used to define such phenomena (Table 1, Figure 1). In addition, an attribute layer of the scholars' field of study was assigned in an effort to delineate the academic fields utilizing these terms and allow for more cross-fertilization in collaboration research.
Table 1. The extent to which terms are utilized and cited by scholars.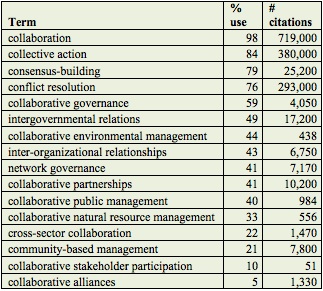 Figure 1. The extent to which terms are commonly cited or co-cited by scholars.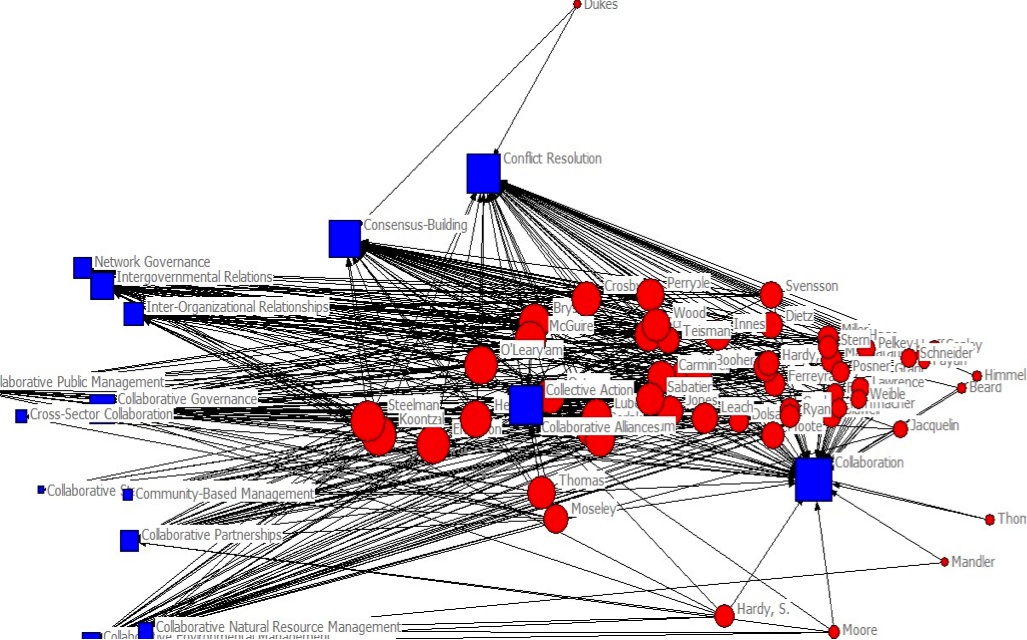 Jennifer Biddle, PhD in environmental science and public policy, will serve as the project lead. Kimberly Richards, MS in public administration and policy, will provide research assistance from the center for the project.
Conceptual Innovations in Environmental Policy
This is a joint project led by James Meadowcroft of Carleton University and Daniel Fiorino of the Center for Environmental Policy at American University. It is funded by the Social Sciences and Humanities of Canada.
The project is concerned with conceptual innovation and the development of modern environmental policy. It explores links between the categories used to think and argue about the environment and the practice of contemporary environmental governance. It involves a survey of concepts that play important roles in the environmental domain, and detailed case studies of a number of key concepts to track their genesis, integration into wider patterns of reasoning and argument, and bearing upon governance practices. 
Project elements

It is important to make explicit a number of elements of the project design. First, the focus is on concepts that have been integrated into political and policy argument. Second, the study concentrates on the modern environmental era, roughly from the mid-1960s to the present. Third, the preoccupation is with key concepts: ideas that occupy an important place in political debate and policy deliberation, which serve as points of reference for governance activities. These are ideas which would be recognised readily by practitioners (politicians, administrators, or business or environmental organization representatives) as defining major issues. Fourth, the focus is on conceptual innovation and on the way new thinking relates to the adjustment of governance approaches.
This project deploys a novel analytical strategy to understand the evolution of environmental governance. Rather than starting from particular discourses, problems, or institutional contexts, it focuses on the conceptual categories invoked in the environmental policy domain. While recent work highlighting the role of ideas in environmental governance has generally focused on a particular policy context, and then established the importance of a specific discursive or ideational move, this project will track the evolution of an array of key concepts across arguments, discourses and practices, and make comparisons among concepts and contexts.
Phases
The project involves three phases: (1) an overall examination of key concepts that frame contemporary environmental policy; (2) detailed case studies centered on a dozen critical concepts; and (3) a comparative analysis of these cases, and synthetic reflection on conceptual innovation and the development of modern environmental policy. The product of the project will be an edited volume published by a leading university press, probably in 2015.
Manjyot Bhan, PhD in public administration and policy, will provide research assistance from The Center for the project. Research assistance also will be provided by Carleton University.
As of September 15, nine concepts have been selected for the project. The international team of scholars commissioned as chapter authors includes:
| | | |
| --- | --- | --- |
| Environment | James Meadowcroft | Canada |
| Green Economy | Daniel J. Fiorino | United States |
| Critical Loads | Karin Backstrand | Sweden |
| Sustainability | Oluf Langhelle | Norway |
| Environmental Assessment | Richard Andrews | United States |
| Adaptive Management | Judith Layzer | United States |
| Biodiversity | Yrjo Haila | Finland |
| Environmental Risk | Ortwin Renn | Germany |
| Environmental Security | Johannes Stripple | Sweden |