New Student Programs Offers New Welcome Weeks Programs
By Patrick Bradley
August 19, 2011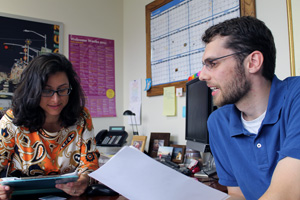 In With the New
For the first time in nine years, New Student Programs is making a change to its Welcome Weeks programming. Traditionally a time defined by Discover DC and Freshmen Service Experience, in-coming students will now find a host of opportunities designed to introduce them to AU, the city, and each other.

Where Discover DC has taken students to explore the district and FSE has logged countless hours of service work, the new programs will instead offer a unique academic component. Director of New Student Programs Tiffany Sanchez has overseen the coordination of Welcome Weeks programming for the past ten years, since her arrival at AU. She explains, "These new programs are collaborative endeavors between the Office of Campus Life and, for the most part, academic units – which is a really exciting development and one that is going to provide additional opportunities that didn't exist before." 
That's not to say these new programs were developed for any lack of interest or popularity with Discover DC and FSE. In fact, it's just the opposite; the original programs were, and continue to be, operated above capacity.

"The important thing is that we have 600 freshmen who participate in the Freshmen Service Experience, and we have 400 students who participate in Discover DC," Sanchez says. "But we have a class of 1500."

In the face of 100-person waitlists, New Student Programs decided a change was in order. Sanchez and her staff put out a call across the university for ideas, specifically those leaning toward the lecture hall side of things. While the first goal was to create more room for participation during Welcome Week, Sanchez saw the move for expansion as a door to something entirely new. 
"Some of it was a space problem," she says, "[but] we've never offered an academic or intellectually challenging program. If we can connect students right away to a faculty member and have them experience something like this as an actual learning opportunity, I think we may appeal to some students who we might not have appealed to with just the two offerings we had before."

So, What Are They?
A number of the university's colleges, schools and Campus Life departments jumped at the chance to engage students from their first moments at AU. After several cuts, the final new programs total five, each highlighting a specific topic ranging from business and politics in the District to athletics and international careers.

Through the College of Arts and Sciences' Anthropology and American Studies Departments, students can attend Washington DC: The Unseen and Untold for a unique, insider introduction to their new home. The Kogod School of Business will offer in-coming students a chance to explore the business side of the city through company visits and a career planning workshop. The School of Public Affairs and the Department of Justice, Law, and Society will show students how the different branches of government interact through its Power, Politics, and Law program. First-years can even enjoy time outdoors hiking and taking on a ropes course with Recreation Sports and Fitness staff.
Dr. Tazreena Sajjad, a faculty member from the School of International Service, co-heads SIS's Going Global: The World in DC program, which will visit locations including the State Department, the Woodrow Wilson Center, and the Middle East Institute to explore different types of international work and the best routes to pursue them.
"The idea is to create an engaging, dynamic introduction for students coming into American University," she says, "not just with an idea of what the classes and faculty will be like, but also with an emphasis on the advantages of being at a big university like American – with the strong international programs it has – and the advantages it has being located in Washington DC."
The new programs will mirror the original Welcome Weeks offerings, lasting three nights and two days, to create a consistent opening experience for all students. Each will hold a welcome reception Tuesday evening, then explore issues on campus and in the city for Wednesday and Thursday, and close with a wrap-up on Thursday night. Depending on the program, students may spend one day, two half-days, or two full days out in the area, getting to know the city and its generous resources.
"They're all going out and really using DC as an extension of the campus," says Sanchez.
The fee remains the same at $115, covering program materials, administration, breakfasts, at least one meal, and a Smart Trip card. Whether incoming freshmen, transfer, or international students, all first-year AU students are welcome and encouraged to attend.

Forecast: Eventful

Before these new Welcome Weeks programs have officially launched, one could easily call them a success. The majority of the programs reached 50% capacity before any serious promotion began, weeks out from students' arrival to campus. One in particular, Recreation Sports and Fitness' outdoor experience, went over its cap in that same period of time.
From an organizer's standpoint, the results have already been more than encouraging, both in initial student interest and in faculty and staff enthusiasm. The benefits of these new programs are certainly not lost on Sajjad.
"You can interact with the students in a more relaxed environment and continue the link between alumni and in-coming students to get a sense of what students are doing outside of the university," she tells. "They're compelling factors to want to be a part of this."
Time will tell how students respond to the new programs. As for Sanchez, she's thrilled at the prospects.
"One of the things I love most about my job is finding ways to blur the lines between the academic experience and the co-curricular experience – the campus life experience," she says. "Maybe we do 10 next year and reach out in other ways."